Hong Kong Protesters Defy Rain to Demand Broader Democracy
Fion Li and Simon Lee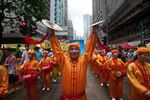 Tens of thousands of people defied heavy rain in Hong Kong yesterday to march on the 16th anniversary of the city's handover to China to demand the government address a widening wealth gap and introduce broader democracy.
About 66,000 protesters were participating at the rally's peak, a spokeswoman for the police, who asked not to be identified due to department policy, said by phone about 9 p.m. local time. The rally began about 2:30 p.m. in Victoria Park in the city's Causeway Bay area and wound through the commercial and business district. Organizers said 430,000 people marched, Radio Television Hong Kong reported on its website.
Hong Kong, a former British colony that was returned to China in 1997, is a Special Administrative Region guaranteed its own freedoms and legal system for 50 years as part of the hand-over agreement. The city is due to elect its next leader, known as the chief executive, by popular vote in 2017.
"He has promised a lot but it is all empty talk," said Chan Wing, 54, a taxi driver who said he first joined the march in 2003, referring to Chief Executive Leung Chun-ying. "The Hong Kong government is controlled by Beijing. Without true universal suffrage, there won't be a chance for Hong Kong people to have a say in our own future."
Hong Kong's government will listen to protesters' demands "carefully," Leung told reporters at a briefing broadcast live on Cable TV yesterday, adding that the city has "ample time" to consult with the public on full democracy.
Universal Suffrage
As chief executive, Leung is also responsible for providing a blueprint for elections in 2017. Leung and his two predecessors were chosen by a committee composed of the wealthy, lawmakers and professionals.
"People worry they may not have true universal suffrage," Ma Ngok, a political scientist at the Chinese University of Hong Kong, said in a telephone interview yesterday. "They are also worried about central government officials' intervention in Hong Kong's affairs."
People should march "to defend the core values of the city, fight for universal suffrage and request that Leung step down," Apple Daily said in an editorial yesterday. The paper printed a banner saying "I am Hong Konger. I want true universal suffrage" for readers.
The annual July 1 protest serves as an indicator of how the city's 7.2 million people regard the leaders in Beijing. In 2003, more than 500,000 marched to demand the then-chief executive's resignation over plans to introduce anti-subversion laws.
Home Prices
The city's home prices, the world's highest according to Savills Plc, have fallen 2 percent from a historic high in March, while transactions have been near the lowest level since the global credit crisis in 2008. This came as Leung, who took over as chief executive in July last year, intensified efforts started by his predecessor and levied extra taxes on non-resident home buyers, doubled the sales tax on transactions and made repeated pledges to increase land supply.
Housing remains "the policy area of greatest public concern" and the government will start consultations "at an appropriate juncture" on the implementation of universal suffrage for the election of the chief executive, Leung said at a reception yesterday to mark the handover's 16th anniversary.
"The SAR government has managed to curb the upward trend of property prices," Leung said. "The government will also alleviate and solve progressively other long-standing livelihood issues, including property, an aging society and the environment through promoting economic growth."
Support Rating
Leung's support rating in mid-June was 46.2 on a scale of 0 to 100, according to a survey of 1,040 people conducted by the University of Hong Kong's Public Opinion Program. That's down from this year's high of 52.2 in mid-January and just above his record low of 46 in late September after protests against government plans to introduce Chinese identity lessons in schools.
HSBC Holdings Plc sealed off access to the plaza of its Asian headquarters in Central yesterday. Occupy Central protesters, the last major holdout of the global Occupy movement that started in New York in 2011, were evicted by court bailiffs from the bank's headquarters in the Central district in September following an 11-month campaign.
The Hong Kong Observatory hoisted its Strong Wind Signal No. 3 at 1:15 p.m. yesterday, which means that winds with mean speeds as high as 62 kilometers per hour are expected. Severe Tropical Storm Rumbia was estimated to be about 380 kilometers southwest of Hong Kong at 11 p.m. yesterday, the observatory said on its website.
Unsolved Attacks
Next Media Ltd., which owns the Apple Daily newspaper, offered a reward of HK$1 million ($128,931) for information on the attackers or their motives after three men burned about 26,000 copies of the Chinese papers June 30, according to a statement published yesterday. The attack was the fourth incident targeting the media group in 11 days and the attacks are a threat to press freedom, Next Media said.
Government supporters made arrangements with shops to offer discounts during the hours of the march and Korean pop stars were flown in to perform with local singers in a concert, the South China Morning Post said on June 22. The 18,000 concert tickets were sold at HK$99, compared with what normally costs between HK$480 and HK$1,680, the paper wrote.
"The tension this year appears to be exceptionally high," the English-language newspaper said. "These goodies have unleashed a barrage of criticism from people supporting the march. This is a show of our pluralism, tolerance and maturity. This is what freedom of expression is about."
Before it's here, it's on the Bloomberg Terminal.
LEARN MORE