Roland Emmerich Can't Stop Destroying the White House
By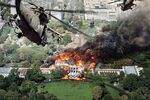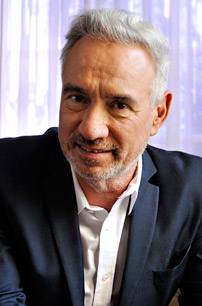 Today marks the release of the biggest, brawniest, Channing Tatum-ist blockbuster of the summer, White House Down, which didn't even hold back from its trailer footage of the U.S. Capitol dome exploding. Followed in short order by Air Force One bursting into flames in mid-air and the White House, as the title suggests, going kablooey. Sound familiar? It should.
White House Down is directed by Roland Emmerich, otherwise known as Hollywood's go-to guy for the artistic destruction of the White House. There's nobody more accomplished in the business. Emmerich first blew up the White House in 1996 with Independence Day, then destroyed it again several years later in his apocalyptic thriller 2012. With the premiere of White House Down, Emmerich officially completes the triple crown. White House Down … Down … DOWN!
Emmerich's talent as a filmmaker is not limited to setting the West Wing aflame. A comprehensive survey of his oeuvre reveals a wide-ranging talent for blowing up an architecturally diverse portfolio of U.S. landmarks. In Independence Day, he blows up I.M. Pei's U.S. Bank Tower in Los Angeles. In Godzilla, he destroys New York's Madison Square Garden and the Brooklyn Bridge. The Day After Tomorrow aims Mother Nature's wrath (in the form of tornados, ice storms, and tsunamis) at the Capitol Records building, the Hollywood sign, the New York Public Library, the Chrysler Building, and the Statue of Liberty. In 2012, (in my favorite act of fantasy demolition), he destroys the Washington Monument.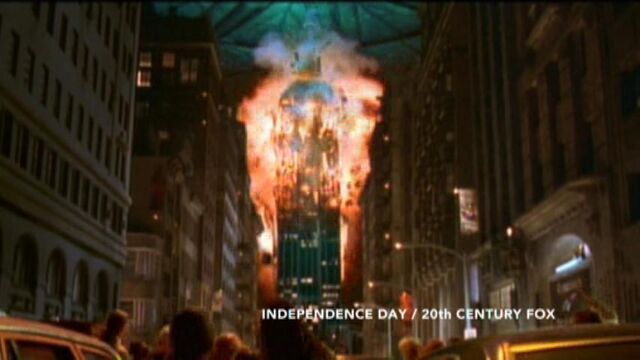 It's mesmerizing stuff. Like kids at the beach (Sandcastle Down!), summer moviegoers can't get enough of the smashy smashy. To date, Independence Day has grossed more than $800 million worldwide, according to Box Office Mojo, while The Day After Tomorrow has pulled in more than $500 million and 2012 has racked up more than $750 million.
You'd think, given his successful track record, Emmerich would embrace his role as Hollywood's preeminent destructor-auteur. But in various interviews over the years, the director has revealed a perennial ambivalence about his reputation for razing skylines. In spring 2004, Emmerich sat down for an interview with NPR. The host, Alex Chadwick, noted that in The Day After Tomorrow, a huge wave crashes into the Statue of Liberty and he asked whether, in the aftermath of the Sept. 11, Emmerich had any hesitation about wrecking American landmarks on screen.
"Well, you know, actually, it doesn't get destroyed," Emmerich replied. "I made a big point out of that. If that much water would hit the Statue of Liberty, it would topple over. But in our movie, it stands. I think that's a symbol for how much has changed. I think you could not do a movie like Independence Day today anymore."
"Because it would be too upsetting to people to see these national things destroyed?" said Chadwick.
"Yeah, yeah," replied Emmerich. "Exactly."
Shortly thereafter, the World Entertainment News Network reported that for years, studio executives had been trying to interest Emmerich in doing a sequel to Independence Day, his alien-invasion epic starring Will Smith. "Then 9/11 happened and it put an end to the talk of a sequel," said Emmerich. "No one really wanted to see the White House blow up again."
A few months later, in the fall of 2004, Emmerich suggested during an interview with the Chicago Tribune that his reputation for cinematic demolition was overblown. "In the original Godzilla, Tokyo ends in ruins," said Emmerich. "I only destroyed Madison Square Garden, a couple of buildings, and the Brooklyn Bridge. New York is still standing." Emmerich went on to assure the Tribune he was done destroying things. "I had a lot of anguish over doing The Day After Tomorrow," Emmerich explained. "I said, 'I can't do this again,' but in the end it was worth it. Now I'm moving on. Now when I'm offered a movie where things break or a disaster happens, I immediately say, 'I've done that.'"
Luckily for summer cineastes, Emmerich's scruples were short-lived. By 2009, he was back to his old landmark-toppling ways in his blockbuster 2012. In an interview with the New York Times that year, Emmerich rationalized the continuation of his cinematic destruction. "If I cannot destroy a big high-rise any more, because terrorists blew up two of the most famous ones, the twin towers, what does this say about our world?" he said. In any case, his days of mayhem were coming to an end, he told the Times. "I know I can't destroy the world again," he said. "That would be kind of a joke."
In the fall of 2011, Emmerich spoke at a film summit sponsored by Variety. "I'm not a person," he said, "who walks around and says, 'What else can I destroy?'"
He's not looking for something else. Now that summer has officially arrived, Emmerich's teeing-up the White House yet again.
Before it's here, it's on the Bloomberg Terminal.
LEARN MORE