Methane Scrutiny in Obama Climate Plan May Cost Drillers
Mark Drajem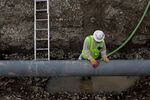 Riding shotgun in a Toyota 4Runner rigged up with a carbon-fiber pipe and a spectrometer, Duke University researcher Rob Jackson trolled through Washington searching for evidence that natural gas is not quite the climate champion President Barack Obama claimed this week.
He was replicating a study he did in Boston, measuring leaks from creaky natural gas pipes. In addition to being a possible safety risk, methane, the key component of natural gas, is 25 times as potent a greenhouse gas as carbon dioxide. And leaks may undercut much of the climate benefits of gas.
"First and foremost this is a greenhouse-gas question," Jackson said as he drove near the Capitol. "What we are trying to find out is how big a problem this is for cities."
In a climate plan released with a speech at Georgetown University on June 25, Obama called for an accounting of leaks across the natural gas production and transport sector. The address was mostly upbeat for gas, highlighting the benefits of shifting from coal, and shares of gas companies such as Chesapeake Energy Corp. and Cabot Oil & Gas Co. rose.
"We should strengthen our position as the top natural gas producer because, in the medium term at least, it not only can provide safe, cheap power, but it can also help reduce our carbon emissions," Obama said. "It's the transition fuel that can power our economy with less carbon pollution."
Fine Print
Included in the fine print of the White House climate plan, however, is an "interagency methane strategy" that could complicate the industry's growth, such as a closer look at the scope of leaks from gas wells, pipelines and compressor plants. Depending on what it finds, new regulations may follow. Obama also called for new and upgraded pipelines to reduce leaks, which could benefit gas utilities.
This comes on top of a proposal by the Environmental Protection Agency in April to change its calculation of methane's climate intensity. The agency said it is considering raising the global-warming potential multiplier for methane to 25 from 21, a change that would increase the official estimate of U.S. emissions, which had been declining.
Last year, they were down more than 12 percent from the peak in 2007, the steepest drop since the late 1970s, as the boom in hydraulic fracturing to extract gas from underground shale formations drove gas prices to decade lows, prompting electricity producers to swap out coal generation.
100 Years
"For all the scaremongering of those opposed to any climate-change plan, the shale gas revolution has made it far less costly than it would have otherwise been to reduce" emissions, Alan Krupnick, a senior fellow at Resources for the Future in Washington, said in a blog post. "Any policy limiting carbon-dioxide emissions from the electric sector -- as Obama is calling for -- is likely to advantage natural gas."
Critics such as Cornell University engineering professor Tony Ingraffea say that gas is a poor substitute, and that EPA is under counting the true threat.
"Any decrease in carbon-dioxide emissions is more than offset by the methane," Ingraffea said. The EPA is looking at the impact of methane over 100 years, "but we don't have a hundred years to do something about global warming."
Burning coal produces twice the carbon-dioxide emissions as natural gas, and carbon dioxide remains in the atmosphere for up to 200 years compared with 12 years for methane, according to the EPA.
Coal Slumps
The scope of gas leakage is the key to determining what climate benefit natural gas delivers over coal, which accounted for 37 percent of electricity generation last year, down from 49 percent in 2007. As rules from the EPA curb coal use, determining where gas leaks are happening and stopping them is the key to making sure one climate pollutant doesn't replace another, according to environmental groups such as the World Resources Institute.
"Given the support we've seen for natural gas in this administration and the way the industry has grown and is expected to grow, getting a handle on these emissions is really important," James Bradbury, a senior associate in the climate program at the institute, said in an interview. "While natural gas is better than coal, coal is a very poor benchmark to use."
The ISE-REVERE Natural Gas Index, which includes securities for natural gas producers Chesapeake and Cabot, rose 2.4 percent this week, reversing what had been a more than 5 percent decline this month. Coal-related shares, such as Peabody Energy Corp. and Arch Coal Inc., have fallen. The Stowe Global Coal index of companies that produce and sell coal, including Arch, fell this week to its lowest level since the depths of the recession in March 2009.
Industry Reaction
The gas industry responded largely favorably to Obama's climate plan, saying it has an "incredible opportunity" to help meet the goals, a different response than coal producers and coal-state governors who trashed the plan as a job killer.
"We now have a great opportunity to explain the role natural gas can play," Paula Gant, senior vice president at the American Gas Association, said in an interview. Gas is "part of the climate solution the president highlighted."
The gas utilities are spending $7 billion a year upgrading their pipeline and delivery systems, and partnering with the Environmental Defense Fund on what else they can do to cut down on any methane losses, she said.
'Drive Down'
"We want to continue to find ways to drive down" emissions, she said. "Gas is the future."
For many environmental groups, that's just what they fear.
They warn that the short-term benefits of switching to natural gas may not be worth long-term problems, making it a poor "transition fuel." On the local level, hydraulic fracturing, or fracking, is blamed for contaminating water by some citizens and activist groups.
"The president's ongoing infatuation with natural gas was one false step," Stephen Kretzmann, executive director of Oil Change International, said in a statement that broadly praised Obama's climate speech.
The climate impact of methane is another concern. In December seven states notified the EPA that it would sue the agency for failing to adopt curbs on methane from oil and gas drilling. And the scope of those emissions are a matter of dispute, with industry and critics awaiting a study by the Environmental Defense Fund that will serve as a new benchmark. It's scheduled to be released in the coming weeks.
Anemometer, Spectrometer
For Jackson, who funded his study through the Nicholas School of the Environment at Duke, his part of the equation is to find out how much methane is leaking out once the gas is being piped to homes.
In Washington, he is spending this week in a silver 4Runner, outfitted with the pipe sticking up eight feet to determine how high the flume of gas is rising, an anemometer on the roof to measure wind speed, and the spectrometer in the rear for methane readings. At spots with especially high readings, the researchers get out of the car to test inside manholes by hand.
In Boston, his team found 3,356 leaks with concentrations up to 15 times naturally occurring levels, according to the study published last year. In Washington, they have found the number of leaks are fewer per mile, but each one is bigger.
"So far the cities look leakier than people anticipated," Jackson said.
Before it's here, it's on the Bloomberg Terminal.
LEARN MORE