UCLA Wins Right to Take MBA Program Private
Louis Lavelle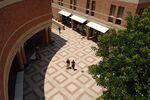 In a surprise move, University of California President Mark Yudof has approved a controversial proposal by UCLA's Anderson School of Management to forgo state funding for its full-time MBA program and become self-supporting.
Yudof's approval comes nine months after a UC Academic Senate panel suspended its review of the UCLA plan, saying the program failed to meet any of the four criteria required for a program to become self-supporting at UC.
Dean Judy Olian, who has championed the proposal since 2010 as a way to deal with declining state support, said cutting off the program's state funding will allow it to generate more resources through tuition and gifts and compete for top students by increasing financial aid. "This provides us with the flexibility we need," she said. "It's a win-win for the university and the school."
In a letter to UCLA Chancellor Gene Block, Yudof cited an upcoming revision of the policy for self-supporting programs and the end of his term on Aug. 31 as reasons for acting now. In approving the proposal, he set a number of conditions, including a requirement that need-based financial aid be offered "at a level commensurate with other UC full-time state-supported MBA programs."
The full-time MBA is the sixth program at Anderson to become self-sufficient, following a part-time MBA, three executive MBAs, and a Master's in Financial Engineering. The undergraduate minor in accounting and the Anderson doctoral program continue to receive state support.
As state support declined, tuition for the full-time MBA program has increased—the two-year program now costs $96,486 for residents and $109,060 for nonresidents. While self-sufficiency will moderate tuition increases, Olian says, tuition will have to continue to increase to market rates like those charged by top-tier private institutions such as Wharton and Stanford, which charge $121,610 and $129,650, respectively.
Olian said the self-sufficiency plan will not result in a tuition increase for students entering the MBA program this year. The UC system will be setting 2013-14 MBA tuition in July.
Anderson will be one of a small handful of North American business schools that have decided to forgo state funding. The University of Virginia's Darden School of Business became self-sufficient in 2002, using tuition, executive education revenue, and endowment earnings to pay the bills. In Canada, several schools have sworn off provincial government support, including Queen's School of Business, Western Ontario's Ivey School of Business, and McGill's Desautels Faculty of Management.
Join the discussion on the Bloomberg Businessweek Business School Forum, visit us on Facebook, and follow @BWbschools on Twitter.
Before it's here, it's on the Bloomberg Terminal.
LEARN MORE