Calgary's Flooding Bruises Oil Patch Economy: Corporate Canada
Jeremy van Loon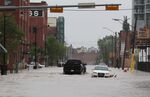 Record flooding near Calgary has left the downtown core of Canada's oil capital empty while forcing three oil pipelines to close and causing as much as C$5 billion ($4.8 billion) in damage to homes and offices.
Companies including Cenovus Energy Inc. and Encana Corp. asked employees to work from home yesterday as power to the office towers in Canada's fourth-largest city remained cut off for a fourth day. Most shops and restaurants that rely on office workers for business were closed.
"We have no power, no phone and I'm losing C$1,000 a day in business," said a teary-eyed John Freriksen, the owner of La Fleur, a flower shop one block south of the Bow building, where Cenovus and Encana are based. "Insurance will cover some of the losses, but the damages are a lot more than people think."
Freriksen lost C$4,000 worth of inventories as his cooling units shut down without electricity and said he expects it will take another week before he's able to get his business operating again.
The flooding is the latest blow for the economy in Canada's oil patch, which is facing approval delays for pipelines such as TransCanada Corp.'s Keystone XL to ship rising volume of crude from the oil sands. Pipeline bottlenecks have pushed prices for Canadian crude to about $17 below U.S. benchmarks.
Insurance Losses
Losses related to the flooding may be C$3 billion to C$5 billion, according to preliminary estimates from Tom MacKinnon, a BMO Capital Markets analyst. That's at least 10 times more than losses tallied in 2005 when what was then the largest flood in a century damaged homes and businesses. The Alberta government pledged C$1 billion in relief funding for flooding victims.
Intact Financial Corp., Canada's second-largest personal and casualty insurer by market value, fell to a 17-month low yesterday. MacKinnon estimated the flooding may reduce per-share earnings at the Toronto-based company by about C$1 to C$1.50.
Last weekend's floods forced the evacuation of as many as 75,000 people from their homes in Calgary, about 7 percent of the city's population.
Parts of Calgary, with more corporate headquarters than every other Canadian city except Toronto, are still under water after the Bow and Elbow rivers swelled from record rainfall in the nearby Rocky Mountains, spilling into low-lying communities. The city is working to restore power as early as today and drain sewage from areas of the city closest to the rivers, including the Stampede grounds, where Calgary's best-known cowboy festival is scheduled to begin in less than two weeks.
Free Burgers
Original Joe's, a Calgary-based restaurant chain with 60 outlets in western Canada, will lose about C$250,000 because of lost business and food going to waste, Chief Executive Officer Derek Doke, said yesterday in an interview outside a restaurant in the trendy Mission district. The company was giving away free burgers so the food wouldn't go to waste because the company still lacks power and gas at three locations, he said.
Calgary's C$75 billion economy, larger than Ecuador's, is driven by the oil and gas industry, which helped the city post Canada's second-fastest growth last year, according to a report by the Conference Board of Canada.
Insurance companies, transportation and logistics businesses and retailers will be most affected by the flooding, said Ben Brunnen, an economic consultant and former chief economist at the Calgary Chamber of Commerce.
Widespread Effects
"The effects are going to be spread across a number of segments," Brunnen said in an interview. "The impact will certainly be felt for the next few weeks or possibly months. There could be a substantial shift in consumer spending as people shift spending to make repairs on their property."
Enbridge Inc., the largest transporter of Canadian crude to the U.S., closed the 12-inch (30-centimeter) Line 37, which carries synthetic crude from Nexen Inc.'s Long Lake oil-sands complex to Cheecham, Alberta, after discovering a 750-barrel spill on June 22. The Athabasca and Waupisoo lines, which carry crude south from oil-sands projects in Alberta, were shut as a precaution.
Suncor Energy Inc. reduced production from its Fort McMurray oil-sands operations because of the pipeline shutdown, CEO Steve Williams said yesterday in a statement.
"Our ability to move product out of the region has been restricted and we've temporarily slowed production," Williams said.
Downtown Deserted
Imperial Oil Ltd., Canada's second-largest oil company by market value, hasn't been affected by the Enbridge closures, while competitors Cenovus and ARC Resources Ltd. have implemented backup emergency procedures to keep their operations functioning with headquarters closed.
"Nobody's working from downtown," said Rhona DelFrari, a spokeswoman for Cenovus. Essential teams, such as marketing and treasury, are working from the company's office building in the south of the city, she said.
No field operations are run directly from Calgary, so production hasn't been affected, DelFrari said. Some of the company's staff had their homes flooded, and Cenovus has told employees who aren't needed at work to stay home and help their neighbors, she said.
The Bow building hasn't had any water damage, said DelFrari, but there's no sign of when they can move back downtown.
Trading Stops
ARC Resources has shut in a "handful" of wells in the Medicine Hat area as a precaution, said David Carey, a company spokesman. The Medicine Hat area supplies 2,500 barrels of oil equivalent a day out of the company's total 95,000 barrels of oil equivalent a day total output.
About half the normal number of oil traders logged into the Net Energy Inc. online oil exchange yesterday, Tim Gunn, the company's CEO, said in an e-mail. Most of the traders were logged in remotely, since their normal headquarters in downtown Calgary were still without power. There was only one trade in the Canadian crude spot market as of 2:20 p.m. local time.
The Calgary Stampede will go ahead as scheduled, CEO Vern Kimball told reporters in Calgary. Event organizers may change the parade route as they repair damage to facilities that were among the hardest-hit areas. The Saddledome hockey arena near the fair grounds was among the buildings flooded.
Drying Sewage
Calgary's Chinatown, bordering the south bank of the Bow River on the north end of downtown, was covered in mud and drying sewage. Water during the flood surged into basements and main floors of the area's restaurants and shops. Police guided traffic past shops with "closed" signs on the doors.
Outside city hall yesterday, vacuum trucks were sucking water and sewage from drains on streets thick with mud and dust. Few people walked on Stephen Avenue mall, a usually bustling pedestrian zone that fills with some of the 350,000 office workers who travel downtown daily from the suburbs.
Canadian Pacific Railways Ltd., Canada's second-largest railway, re-opened its line west of Calgary in the towns of Canmore and Banff and planned to open segments of its main line through downtown Calgary. More than 40 locations along the company's routes have been affected by high water, CP said in an e-mail.
"The force and extent of this flooding was extensive and evolved from hour-to-hour," CEO Hunter Harrison said in the statement. The Calgary-based company reiterated its full-year profit guidance.
Delayed Shipments
Damage to railway tracks may delay shipments of potash to Canada's West Coast from Saskatchewan, Todd Coakwell, a spokesman for Calgary-based Agrium Inc., the country's third-largest producer of the crop nutrient by volume, said in an e-mailed statement.
CF Industries Holdings Inc. said it shut a nitrogen facility in Medicine Hat in advance of flooding on the South Saskatchewan River.
Alberta crop and livestock producers may suffer losses from the floods, although officials won't know the extent of the damage until waters recede, Agriculture Minister Verlyn Olson said in a June 21 telephone interview from Edmonton.
Cargill Inc.'s beef-processing plant south of Calgary in the town of High River remained closed yesterday because of a temporary disruption to the fresh-water supply amid area flooding. Cattle slaughter was halted on June 21 and "we aren't certain when we will be able to start processing again," Brigitte Burgoyne, a spokeswoman, said in an e-mail.
The plant isn't directly affected by flooding and typically processes 4,500 head of cattle a day, Burgoyne said. The gross value of livestock from one day of production at the facility is valued at an estimated C$7 million, according to Joe Jackson, head of risk management for Jameson, Gilroy and B&L Livestock Ltd. in Moose Jaw, Saskatchewan.
Before it's here, it's on the Bloomberg Terminal.
LEARN MORE