India's Sensex Index Drops to 10-Week Low on Rupee, Fund Outflow
Santanu Chakraborty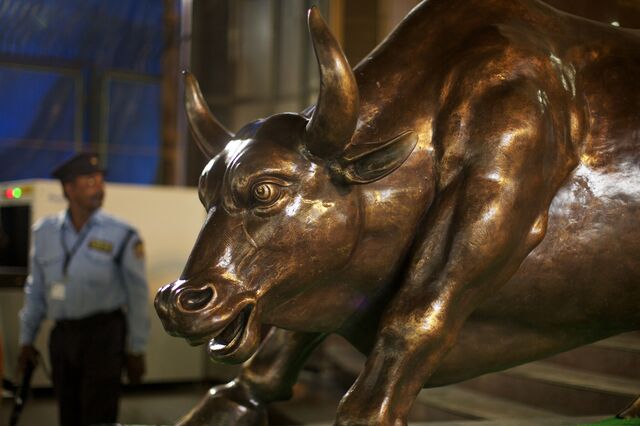 Indian stocks dropped, extending a three-week slide, after the rupee declined and as foreign funds capped the biggest selloff in almost two years.
The S&P BSE Sensex retreated 1.2 percent to 18,540.89 in Mumbai, the lowest close since April 15. Volume on the gauge was 32 percent higher than the 30-day average. Larsen & Toubro Ltd., the nation's largest engineering company, retreated to more than a two-month low. Cigarette maker ITC Ltd., which has the highest weighting on the Sensex, fell for the fifth day, the longest losing run in 13 months.
India's rupee weakened 0.8 percent, extending a seven-week slide, after overseas investors pulled $4.6 billion from Indian bonds and shares this month on the prospects of the U.S. paring stimulus policies. Emerging-market stocks tumbled to a one-year low as Chinese equities entered a bear market after the central bank signaled it will maintain efforts to curb credit growth.
"Investors are turning totally risk-off amid the global selloff as nobody wants to catch a falling knife," Jitendra Panda, head of broking at Capital First Ltd., said by phone from Mumbai. "China data is not supporting regional markets. More losses are expected."
Larsen & Toubro decreased 2.7 percent to 1,354.60 rupees, the lowest level since April 10. ITC slid 2.5 percent to 314.40 rupees, a fifth day of loss, the longest losing run since May 8, 2012. Software exporter Infosys Ltd. fell 1.6 percent, the lowest price since June 20. Oil & Natural Gas Corp. tumbled 2.9 percent to 298.80 rupees. The four stocks have a combined 27 percent weighting in the Sensex.
The rupee weakened 0.7 percent to 59.6750 per dollar. It touched a record low of 59.98 on June 20. The currency declined 5.3 percent this month, Asia's worst performance.
Fund Outflows
Foreigners pulled a net $358 million from Indian shares on June 20, the most since Aug. 9, 2011. That extended withdrawals from stocks in June to $760 million, putting funds on course to end 12 months of net buying, data compiled by Bloomberg show. Overseas investors have invested a net $14.3 billion in local shares this year, still a record for the period, the data show.
Prime Minister Manmohan Singh's administration has changed policies since September to revive the economy that expanded a decade-low 5 percent in the year ended March 31. Those changes may slow as political parties prepare for elections due by May next year, according to brokerage Kotak Institutional Equities.
"We're looking at few months of political uncertainty, may be a slowdown in reforms, which is not a case for lots of money coming to India," Sanjeev Prasad, co-head and senior executive director at Kotak, said in an interview to Bloomberg TV India today. "The government has been trying to address the high fiscal and current-account deficits and a weak investment climate. It may not have the time to take the process to its logical end given that we have elections in a few months."
Bear Market
The MSCI Emerging Markets Index fell 1.4 percent to 888.86 at 7:25 p.m. in Hong Kong, the lowest level since June 5, 2012. The CSI 300 Index, representing the 300 biggest companies in the Shanghai and Shenzhen stock exchange, slumped 6.3 percent, sliding 22 percent from this year's closing high of 2,775.84 on Feb. 6. More than $19 billion was pulled from funds investing in developing-nation assets in the three weeks to June 12, the most since 2011, according to data from EPFR Global.
"If emerging markets are not the flavor then we will see less money coming, or may be money going out," Kotak's Prasad said. "Given the recovery in the U.S. at some point in time the Fed will stop" the bond-buying program, he said.
The Sensex is valued at 12.7 times projected 12-month earnings, the cheapest since April, compared with the MSCI Emerging Markets Index's 9.2 times. The CNX Nifty Index on the National Stock Exchange of India fell 1.4 percent to 5,590.25. Its June futures settled at 5,600. India VIX, which gauges the cost of protection against losses in the Nifty, surged 10 percent to a one-year high.
Before it's here, it's on the Bloomberg Terminal.
LEARN MORE