France's Baccalauréat: Not Worth the Pain
By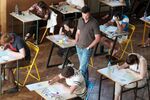 It's not too often that I feel truly sorry for my high-school-senior son. But this week he's had my total sympathy as he slogs through the infamous French bac.
Besides completing their coursework, high school seniors in France must take a grueling series of year-end exams, known collectively as the baccalauréat, or bac. In my son's case, this has included four-hour essay tests in economics, English, French, history, and philosophy (yes, philosophy!), as well as exams in math, sciences, and foreign languages. Coming up next week: oral interrogations in literature, history, and geography.
Adding to the pressure, students know they won't be admitted to top French and British universities unless they ace these tests, no matter how good their grades were during high school.
So I wasn't all that surprised by this report about a mother who sneaked into a bac testing center and tried to take an exam in her daughter's place.
Lucky for my son, his mom isn't that crazy—plus, he's going to attend a U.S. college that doesn't care about his bac score, as long as he passes.
Apparently, I'm not the only one who thinks something is wrong here. A recent poll for the magazine Nouvel Observateur found that only 36 percent of the French think the bac should be maintained in its current form. Another 37 percent said some of the year-end exams should be eliminated, while 24 percent said they should be scrapped altogether.
Interestingly, support for keeping the exams was strongest among those in their mid-20s and early 30s, and diminished with age. As people get older, I suspect, they realize that the ability to write a treatise on "Is language nothing more than a tool?" (one of this year's philosophy questions) did not greatly enhance their prospects in life. Most students, in fact, flunk the philosophy exam, though more than 80 percent of all bac candidates get an overall passing grade, based on a weighted average of scores on all the tests.
A former journalist, Peter Gumbel, has written a devastating critique of France's education system. He says that harsh teaching methods leave kids stressed-out and demoralized, yet produce graduates whose performance, on average, often lags that of their counterparts in other countries. The bac's traditional role in this system is to winnow the field at the end of high school, shunting lower-scoring students into mediocre, poorly financed public universities or directly into the job market. Fewer than 10 percent of graduates gain admission to elite institutions known as grandes écoles, and many of them go on to land top jobs in government and business. A 2010 study found that 83 percent of directors of France's biggest companies had attended a grande école.
However, a startling new report by the Conference of Grandes Ecoles shows that 16 percent of their graduates now take their first jobs outside France, up from only 10 percent a decade ago. Among those who studied business and management, nearly one in four leave the country. The reasons aren't hard to fathom: France's stagnant economy can't match the salaries and opportunities available elsewhere.
As my son and his classmates take their four-hour math exam today, I'm glad their ordeal is almost over—but quite certain that their pain has not been worth it.
Before it's here, it's on the Bloomberg Terminal.
LEARN MORE