A German B-School Goes Kaput and the Finger-Pointing Begins
Louis Lavelle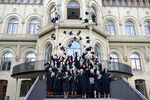 A business school in Germany has declared bankruptcy after struggling for a year with low enrollment in its full-time MBA program, and it blames its partner school, Purdue's Krannert School of Management, for cutting off the flow of students.
The bankruptcy ends a 14-year run for the Graduate International School of Management and Administration (GISMA) in Hanover, which was founded in 1999. In a German-language statement (PDF) posted on the school's website on May 14, GISMA said the problems started in 2012, when it could only enroll 24 candidates for the full-time MBA program. The school's website lists the class size for the program as 60. The drop in enrollment resulted in "financial constraints" that cost-cutting could not alleviate, the statement said.
Purdue, which accepts roughly 35 MBA students for the 11-month GISMA program each year, stopped the process of approving candidates for the program, which begins in August, the statement said. "This action by the person responsible at Purdue University is neither contractually [agreed upon] nor corresponds to a fair partnership approach," said GISMA Foundation Chairman Volker Müller.
In a statement on the Krannert website, Dean Chris Earley did not address Müller's comments directly, but said the bankruptcy announcement did not come as a surprise. "Throughout this period, Purdue has remained steadfast in its support of GISMA and has offered various measures to help it through these difficulties," Earley wrote. "However, GISMA's limited success in attracting students and its internal struggles with turnover in its own organization have made a problematic fiscal situation even more difficult."
A Krannert spokesman, Tim Newton, disputed the notion that Purdue was to blame for GISMA's problems. Krannert, which receives about $1.9 million a year from the GISMA partnership, reduced one quarterly payment, deferred a second, and offered to defer a third to help GISMA out of its financial problems. Krannert greenlighted nine applicants for the program this year. When the school did not respond to a request for information about the pending bankruptcy by early May, Earley placed a "temporary hold" on the seven remaining applications. All 16 applicants have been given the option to pursue their degrees at Purdue's campus in West Lafayette, Ind.
"It's not entirely accurate," Newton said of GISMA statement. "To say Purdue caused the bankruptcy is not a true statement."
The GISMA bankruptcy comes as German business schools enjoy a rare moment in the sun, with MBA applicants flocking to the country and away from troubled economies elsewhere in Europe.
According to the GISMA statement, the 2013 full-time MBA class will graduate as planned on July 19. Participants in two weekend MBA programs who were to complete their studies in late 2013 and late 2014 will be "offered solutions that enable participants to achieve their desired degree."
Join the discussion on the Bloomberg Businessweek Business School Forum, visit us on Facebook, and follow @BWbschools on Twitter.
Before it's here, it's on the Bloomberg Terminal.
LEARN MORE