As Superman Battles in 'Man of Steel,' IHOP Emerges the Winner
By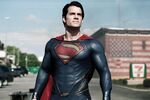 The new Zach Snyder-directed and Christopher Nolan-produced Man of Steel arrives in theaters this weekend, and moviegoers will notice a surprising corporate co-star: IHOP. That's right, the International House of Pancakes.
In the film (light spoilers to follow), the restaurant is mentioned by name during a key sequence and a fierce battle unfolds between Superman and Faora, General Zod's deadly sidekick, in the chain's Smallville outpost. More intriguingly, Clark Kent's boyhood bully eventually becomes an IHOP manager.
Curious about this overwhelming IHOP-ness, Bloomberg Businessweek reached out to Craig Hoffman, a company spokesman. While he wouldn't discuss the restaurant's contractual agreement with Warner Brothers, Hoffman fielded a few questions about the restaurant chain's curious prominence in the film, and what it means for pancake sales.
How did IHOP get involved?
Well, first of all, I should say that as a recognizable brand with recognizable restaurants. We're approached a lot about filming opportunities. In this case, we just  felt, "We're an iconic American brand, and this is an iconic American story." So we were happy to cooperate.
The Smallville IHOP survives a significant battle involving Superman, when elsewhere he has brawls that seem to level cities. How come the IHOP survives?
Well, it has some damage. But that's a creative decision. All I can say is that while the Smallville IHOP may be closed for renovations for some time to come, there are 1,500 other locations around the world people can go to. Metropolis, though, I can't answer for.
Does the company take issue with the fact that Superman's boyhood antagonist ends up working for IHOP?
Well, I think it signifies a good career choice, personally. If you can't be Superman, you might as well be another superhero.
What do you mean?
IHOP managers go above and beyond.
Did IHOP have any input into the storyline?
No. We just asked that they don't disparage the brand in the script.
How do you think Man of Steel's going to do at the box office?
We hope tickets sell like hotcakes.
Before it's here, it's on the Bloomberg Terminal.
LEARN MORE