Los Angeles Mayor Reminds Unions of $2.7 Million Mistake
James Nash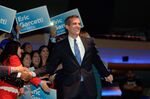 When Eric Garcetti takes office as mayor of Los Angeles next month, one of his first tasks will be to lead contract negotiations with unions for more than 29,000 city employees that spent more than $2.7 million trying to defeat him.
The unions whose contracts expire in June 2014 represent police officers, firefighters, librarians and other employees whose salaries, nearly $2.5 billion a year, account for about a third of municipal expenditures, according to a summary from the city administrative office.
For Garcetti, a 42-year-old Democrat from the Hollywood area who forged a reputation as a consensus-seeker in six years as the City Council president, the negotiations represent an early test of backbone, according to Raphael Sonenshein, director of the Pat Brown Institute for Public Affairs at California State University, Los Angeles.
"The labor negotiations will be very dramatic," he said. "This is when you get into the realm of real politics."
Garcetti takes charge of America's second most-populous city as general-fund revenue is forecast to grow 7.1 percent in fiscal 2014, which begins July 1. Los Angeles has dealt with $1.6 billion in cumulative deficits over the past four fiscal years. For 2014, current Mayor Antonio Villaraigosa urged his successor to renegotiate 5.5 percent raises due to most civilian employees Jan. 1 under a contract reached in 2007.
Pay Increase
Forgoing the Jan. 1 pay increase and holding the line on salaries through 2017 would allow Los Angeles to restore city services and avoid firing and furloughing employees, City Administrative Officer Miguel Santana said in an April 30 memo.
Moody's Investors Service raised its rating for the city of 3.8 million residents to Aa2 in January, its third-highest level and the first increase in two decades, citing rising property-tax receipts. Standard & Poor's rates Los Angeles AA-, its fourth-highest grade.
Public employee unions were the largest funders of Garcetti's opponent, City Controller Wendy Greuel, in the May 21 election. A union-funded independent expenditure committee spent $960,000 on a single TV advertisement touting Greuel as the "one leader who has what it takes to clean up the mess at City Hall" and avert bankruptcy, according to City Ethics Commission filings.
The majority of City Hall unions, including an affiliate of the Service Employees International Union and the Los Angeles Police Protective League, backed Greuel, while Garcetti's financial supporters included the California Teamsters union and a local chapter of the International Longshore & Warehouse Union.
Owning Unions
Garcetti's campaign portrayed Greuel, a 52-year-old Democrat, as beholden to municipal workers, particularly the union for the city-owned water and electric utility. In one ad, the Garcetti campaign noted that the utility union was demanding raises and asked: "How much will it cost you?"
In an interview June 5, Garcetti said he would not punish city unions for backing his opponent.
"I'm going to continue in the same way I did before, which is to approach negotiations in a respectful and tenacious way," he said. "I will ensure that we will do what we can do to ensure that any additional monies we get go into restoring city services and not into pensions, salaries or health care."
The city's largest union, SEIU Chapter 721, expects Garcetti to honor its commitment to a 5.5 percent raise for its 10,000 members due Jan. 1, spokesman Ian Thompson said.
Bargaining Position
The current contract, which has boosted members' salaries 25 percent since 2007, expires at the end of June 2014. Thompson said he couldn't anticipate the terms of the union's bargaining position with the Garcetti administration.
The union represents garbage-truck drivers, animal-shelter workers, tree trimmers, traffic officers and others.
"Our members are very aware of the sacrifices they've made," Thompson said by telephone. "They equal about $850 million in our members' pockets over the life of the present contracts, that they've given back to the city. Asking members for further sacrifices doesn't make sense in the current economic environment."
Thompson said he expects the SEIU to have a better relationship with Garcetti than it did with Villaraigosa, largely because the latter shrunk the city workforce, furloughed employees and rolled back pension benefits. The union's support for Greuel shouldn't be a factor, Thompson said.
"Our members know Eric Garcetti very well and we think we can partner with him to do the things we need to do to make L.A. better," Thompson said.
'Urban Cosmopolitan'
Sonenshein said Garcetti personifies a side of Los Angeles that defies regional stereotypes: the "urban cosmopolitan." A former Rhodes Scholar at Oxford University, Garcetti has Italian and Mexican ancestry and was the first practicing Jew elected as Los Angeles mayor.
"He's going to be a very forward-thinking, innovation-oriented mayor," Sonenshein said. "He's going to try to get L.A. back to the forefront on innovation, planning and growth."
Garcetti is known as an early adopter of new technology. He first ventured online in 1991, the year the World Wide Web became publicly available, and got an electric car in 1997. His first public meeting as mayor-elect was with about 20 technology entrepreneurs and academics. During the two-hour meeting, Garcetti said technology would be "woven into everything I do" and touted Los Angeles as a "high-tech city."
"I very much want to be the face of that," he said.
Repeating a campaign mantra, Garcetti said his top goal as mayor would be to reduce unemployment. Los Angeles had a 10.3 percent unemployment rate in April, according to the California Employment Development Department, compared with 8.4 percent for the largest American city, New York.
"It's the central goal of my administration, to put people back to work," he said.
Before it's here, it's on the Bloomberg Terminal.
LEARN MORE