Why Crowdfunding Means Larger Loans From Alternative Lenders
by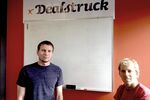 From the New Entrepreneur blog to the halls of Congress, much has been made of the alternative financing startups angling to enter the market. Perhaps too much. "Alternative lending can only be a niche market," Rohit Arora, chief executive of online lending platform Biz2Credit, told me earlier this week when I was working on a story on big banks' credit-card lending to small businesses. "It's high-cost, short-term money, and you can't use it to replace long-term options."
Much more useful for most small businesses, said Arora, would be financiers that provide affordable "medium-term" loans that companies can use to build a business, not just use to meet immediate cash flow needs.
He might have been talking about Dealstruck, a peer-to-peer lending platform for small business loans that was formally launched on Tuesday. The San Diego startup wants to tap accredited investors to make small business loans between $100,000 and $1 million. Co-founder Ethan Senturia says that most terms will range between two and five years, and interest rates will likely fall between 5 percent and 15 percent.
"We looked at the world and saw that what was a bankable loan five to seven years ago isn't bankable, not because businesses were any worse, but [because of] changes in risk tolerance and regulation," says Senturia, a former Lehman Brothers banker. Senturia says Dealstruck has funded two loans so far, including a $250,000 loan with a 9 percent interest rate from 21 investors.
Dealstruck isn't the only company crowdfunding small business loans. Lending Club, a pioneer of peer-to-peer lending in the U.S., has signaled intentions to lend to small businesses. SoMoLend and Endurance Lending Network are also circling the field. Senturia says his company decided to target midsize loans in part because startups such as On Deck and Kabbage have too much of a head start on short-term financing.
Another factor driving the marriage of peer-to-peer and small business lending: Companies such as Lending Club, which is eyeing an initial public offering, have more demand from investors than they have loans to fund.
Before it's here, it's on the Bloomberg Terminal.
LEARN MORE