pursuits
Restaurateur Stephen Starr: How Did I Get Here?
Owner, Starr Restaurants
By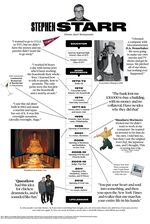 The Starr Restaurants owner talks about working on the Atlantic City Boardwalk and other high points of his career.
(
Corrects spelling of Starrship Enterprises and El Rey restaurant
)
Before it's here, it's on the Bloomberg Terminal.
LEARN MORE