Innovation: DNA Fog by Applied DNA Sciences and SmokeCloak
by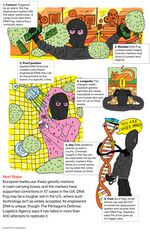 Form and function
A fog-based security system that marks intruders with genetic material derived from plants. It's hard to remove and links suspects to crime scenes.
Partners
Stony Brook (N.Y.)-based Applied DNA Sciences developed the tracers, and Danish security company SmokeCloak builds the deployment devices.
"Police often have a very good idea who the criminals are, but they just cannot prove it." — Applied DNA Sciences Chief Executive Officer James Hayward
Before it's here, it's on the Bloomberg Terminal.
LEARN MORE