How to Grow an Office Beard
Executives such as Lloyd Blankfein and Carl Icahn are sporting close-cropped scruff. Here's how you can, too
Bill Bradley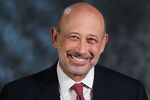 Beard basics
1 / Pick a shape that works for you
Your beard should complement your face. "If your head is round, select a style with a slimming effect," says Allan Peterkin, co-author of The Bearded Gentleman: The Style Guide to Shaving Face. "If your face is oval, opt for wider growth that adds weight to your cheeks." Tidiness is paramount. "For an executive, an inch of well-groomed growth is the longest we see guys going," says Michael Gilman, the founder of Grooming Lounge, a men's skin-care line and grooming advice website.
2 / Maintain your neckline
Unsightly neck hair will ruin an otherwise office-appropriate beard. Peterkin suggests a tapered look, using an electric razor between the Adam's apple and chin. Another tactic: the "index finger rule," says Bret Reichley of New York's F.S.C. Barber. "Place your finger directly under your chin and shave everything beneath it. When you stare eye-level into the mirror, you should see zero neck hair."
3 / Clean up your act
The upper cheeks are prime areas for uneven, unwanted patches of growth. "Remember to clean the margins," Peterkin says. "A lot of guys' cheeks can look really scruffy." Also, avoid the "Bernanke," a severe demarcation line at the jaw.
Pro Tips
Consult Your Calendar
"For a proper beard, you have to stop shaving for four to six weeks," Peterkin says. "So pick your moment and commit. Do it on a vacation, a summer holiday, or, God forbid, a layoff. You will look scraggly for a while."
Care Means Comfort
"Men usually think, OK, now that I have a beard I don't have to worry about my face," Peterkin says. Wrong. "Every morning you should hydrate and protect your skin. Use moisturizer in your beard to condition it and help with itchiness."
Bring your beard to work day
Emotional support from Michael Williams, founder of guy advice blog acontinuouslean.com
A / "Step up your style game when you're showing off your beard for the first time: Clean up, dress nicely, and be neatly pressed. If not, your boss will think you're coming off an epic bender. Or, worse, that you've totally let yourself go."
B / "Embrace your new, rugged look with confidence, but be prepared for a stream of endless, unclever 'mountain man' references. Remember that beards are dignified—think of all the presidents who wore beards."
C / "Prepare for repulsed looks from at least one person in your office. Smile at him or her and make a joke about forgetting to shave. If all else fails, remind them it could be worse: It could be a moustache."
Before it's here, it's on the Bloomberg Terminal.
LEARN MORE