Japan Online Stock Trades at Record Amid Surging Volume
Toshiro Hasegawa and Anna Kitanaka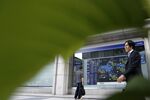 Japan's five largest online brokerages posted record trading in May amid surging equity volume as the nation's shares rose to the highest levels since August 2008 before tumbling into a correction.
Matsui Securities Co., which gets 65 percent of its revenue from commissions, said the value of shares traded though client accounts rose to a record 5.86 trillion yen ($59 billion) in May, beating the previous high of 4.68 trillion yen in December 2005. Turnover also reached a record at Monex Group Inc., Rakuten Securities Inc., Kabu.Com Securities Co. and SBI Securities Co.
Individuals are returning to Japan's share market as Prime Minister Shinzo Abe's policies to rekindle inflation endanger 845 trillion yen in personal savings that two decades of deflation made it profitable to leave idle. About 99 percent of Matsui Securities' account holders are smaller investors, according to Ryo Matsui, a spokesman for the brokerage.
"Existing day-trading customers have become more active since the implementation of the Bank of Japan's monetary easing measures," said Kumiko Hayashi, a spokeswoman for Matsui Securities in Tokyo. "There's a renewed energy for trading."
The Bank of Japan on April 4 announced unprecedented economic stimulus, pledging to double the monetary base as it seeks to achieve a 2 percent inflation target by the end of 2014.
The number of shares traded on the Tokyo Stock Exchange's first section rose to 4.7 billion a day on average last month, the highest ever, according to data compiled by Bloomberg. Equities worth about 3.6 trillion yen changed hands daily, with a record 5.8 trillion yen transacted on May 23.
Price Swings
Stock prices are swinging by the most in more than two years, with a measure of 15-day historic volatility on the Topix jumping to 44.31 yesterday, the highest since immediately after the 2011 earthquake and nuclear accident. Japan's broadest equity measure has swung an average of about 3.9 percent daily since May 23, when it had the biggest one-day plunge since the disaster.
The percentage of Japanese stock trading being done by individuals rose last month to more than twice what it was before the rally began in November. In the week to May 24, when the Topix had its biggest drop since August 2011, individuals bought a net 408 billion yen worth of shares, the most since July 2009, the data show.
Increasing Volatility
"The main reason we're seeing a sharp increase in buying and selling by individuals lately is individual daytraders have been making a huge amount of trades," Atsuto Sawakami, whose namesake fund has 297 billion yen under management, said in a May 29 interview. "Volatility has been increasing lately, and investors targeting short-term profits no doubt see this as an opportunity."
Brokerages have led gains in the Topix since November on speculation that Abe's policies would lead to increases in revenue. Even after the Topix Securities Index dropped 24 percent in the last 13 trading days, 17 of 20 companies in the measure have more than doubled since Nov. 14.
About 8,126 new accounts were created at Matsui Securities in May, lifting the total to 885,000. Monex Group, an online brokerage which reported a 258 percent increase in net income in the year ended March 31, said trading value hit a record 3.76 trillion yen in May, beating its previous high in December 2005.
Rakuten, SBI
Rakuten said turnover for May was 8.25 trillion yen, beating a previous high in April. Kabu.Com said trading value also exceeded an April high, with 4.72 trillion yen.
SBI Securities, the brokerage unit of SBI Holdings Inc., said the value through its client accounts was 18.31 trillion yen.
A gauge of brokerages lost 0.8 percent on the Topix index today. SBI Holdings lost 2.6 percent to 1,253 yen, Matsui lost 1.7 percent to 928 yen and Monex slid 1.5 percent to 36,000 yen. Rakuten lost 1.4 percent after a report the online retailer plans an acquisition in the U.S. Kabu.Com slid 6.4 percent to 528 yen. The Topix dropped 1.8 percent.
The Topix rose to a 4 1/2 year intraday high of 1,289.77 on May 23 before plunging. Stocks entered a correction at the end of May, having tumbled more than 10 percent from the high, led by a drop in brokerages. Shares extended declines yesterday after a speech by Abe on the country's growth strategies disappointed investors.
Before it's here, it's on the Bloomberg Terminal.
LEARN MORE