Prognostications: It's Not a Stock Bubble
by
Portfolio manager Josh Brown, who blogs at thereformedbroker.com, scoffs at comparisons between the current bull run and the go-go '90s, when the market surge was led by flimsy technology stocks.
"This is nothing like 1999, other than the fact that stocks are going up. This doesn't mean they can't go down; it simply means that being in the market now isn't crazy, stupid, or reckless."
His evidence: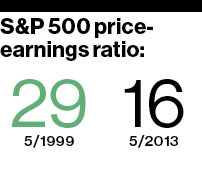 1. Today, unlike in 1999, valuations reflect earnings. Companies are making real money; corporate profits in the U.S. are at an all-time high. The average price-earnings ratio of stocks in the Standard & Poor's 500-stock index is just a bit more than half what it was in 1999, and lower still than at the previous peaks in 2002 and 2009.
"So double the fundamentals for half the price. Sound frothy to you?"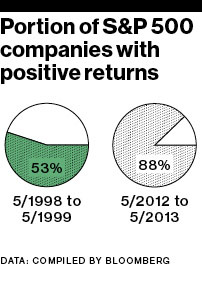 2. Those high profits are spread across many sectors. In 1998-99, gains were concentrated in technology and telecom. Compare that with the current bull market, where gains are spread broadly across all industries, with large companies including Citigroup, Walt Disney, and Google reporting strong earnings to support their stock performance.
"The stocks leading the markets are blue-chip companies with obscenely high profits and more cash being generated than they know what to do with."
3. Ordinary investors aren't piling in.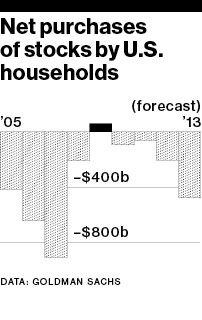 "Back in 1999, everyone was trading. Shaquille O'Neal was starring in online brokerage commercials that were running around the clock. Today it's almost impossible to find a regular person who has any interest in talking about the stocks they own."
Brown's advice: Even as the market reaches new highs, don't be afraid to put money in. Otherwise, your money will sit in accounts earning little or nothing.
"Being out of the market with retirement somewhere far out on the horizon is the height of recklessness, the opposite of conservative."
Before it's here, it's on the Bloomberg Terminal.
LEARN MORE