Innovation: Tsunami Barrier by Johann van den Noort
Johann van den Noort's mechanical shoreline barrier promises to neutralize tsunamis
By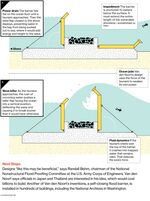 Innovator Johann van den Noort
Age 73
Title Founder of Van den Noort Innovations in Kampen, Netherlands
 
Form and Function
A massive concrete-and-steel design meant to weaken tsunami waves and protect vulnerable cities. Unlike other man-made barriers, it is activated and powered entirely by the force of the tsunami itself.
Before it's here, it's on the Bloomberg Terminal.
LEARN MORE