MBA Summer Reading: Amazon Recruiter on 'Lean In'
By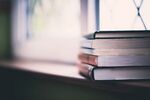 Summer is upon us and you're searching for a few book recommendations that are both entertaining and useful. Look no further. We've asked deans, professors, recruiters, and executives to recommend a few titles that every MBA—or MBA wannabe—should read. Over the coming weeks, we'll present those lists, as well as some feedback from the individuals who recommended them on why the books get their seal of approval.
Today's recommendation comes from Amazon.com MBA recruiter and director of global university programs Jennifer Boden.

Lean In: Women, Work, and the Will to Lead (Knopf, 2013) by Sheryl Sandberg.
Amazon encourages its employees to "pioneer and invent, which requires a spirit of ownership, innovation and calculated risk-taking. Lean In encourages someone at any point in their career to do just that—lean in to challenges and opportunities. The lessons in Lean In will help you to think long-term and look around the corner, which will help you create value and feel confident when making tough decisions. That approach takes courage, but it will take you far, no matter where you are in your career."
Join the discussion on the Bloomberg Businessweek Business School Forum, visit us on Facebook, and follow @BWbschools on Twitter.