Ibuprofen at High Dose Raises Heart Risk, Review Shows
Makiko Kitamura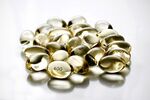 High doses of painkillers such as ibuprofen raise the risk of heart disease, according to a review of 639 studies that draws a parallel with the potential danger from newer pain drugs including Pfizer Inc.'s Celebrex and Merck & Co.'s withdrawn Vioxx.
Over a year of treatment, for every 1,000 patients with moderate heart disease risk who took 2,400 milligrams of ibuprofen or 150 milligrams of diclofenac, both daily doses standard for arthritis, three patients would experience an avoidable heart attack, the analysis showed. Ibuprofen is sold as a generic and under brand names such as Advil and Nurofen.
The study, published today in the Lancet, included data on more than 353,000 patients. The higher risk was comparable to that associated with the Cox-2 inhibitor class of painkillers that includes Pfizer's Celebrex, Merck's Arcoxia and Vioxx, which Merck withdrew in 2004 after research linked it to heart attacks and strokes. The findings must be weighed against relief the drugs bring to people with chronic pain, said Colin Baigent of Oxford University, who led the study.
"It's up to patients to assess whether the extra risk of heart attack is worth it for them to be able to go about their daily lives," Baigent told reporters in London yesterday. He works at the Clinical Trial Service Unit and Epidemiological Studies Unit at Oxford.
'Informed Choice'
The analysis included data from published and unpublished trials on that class of drugs provided by Pfizer and Merck, as well as Novartis AG and GlaxoSmithKline Plc. Pfizer didn't provide data on its withdrawn Bextra medicine, it said.
"These results reinforce the positive benefit-risk profile of Celebrex and are an important addition to medical knowledge," said Mackay Jimeson, a spokesman for New York-based Pfizer. "Celebrex continues to be an important treatment option for arthritis patients."
The risks and benefits of Arcoxia, including safety information, are included in the prescribing information in countries where it is available, said Pamela Eisele, a spokeswoman for Merck of Whitehouse Station, New Jersey.
"The lowest effective daily dose should be used" because the risks increase along with the amount taken, she said. "Patients should seek the advice of their health-care provider to make an informed choice."
No Smoking
Naproxen, another non-steroidal anti-inflammatory drug, had lower heart risk than the other painkillers, though it carried a higher risk of bleeding from ulcers, the study showed.
While the drugmakers contributed data, they had no role in the writing of the paper, and the Clinical Trial Service Unit receives no industry funding, according to Baigent.
For patients who smoke or have high levels of cholesterol, addressing those problems could help offset harm associated with generic painkillers, Baigent said.
"The risk is highest in those with a previous history of heart disease or those with cardiac risk factors such as raised blood pressure or cholesterol," the researchers said.
The findings shouldn't prompt patients to abandon their usual drugs in favor of more doubtful alternatives, Marie Griffin, professor of preventative medicine at Vanderbilt University Medical Center in Nashville, Tennessee, said in a comment accompanying the published paper. Other painkillers such as opioids also carry serious risks, and "evidence for their efficacy in chronic pain is sparse," she said.
"Identification of safe and effective strategies for chronic pain is sorely needed," Griffin said. In the meantime, long-term use of existing anti-inflammatory drugs at high doses "should be reserved for those who receive considerable symptomatic benefit and understand the risks."
Aspirin wasn't included in the study because it's "well known for protecting against heart attacks," Baigent said.
Before it's here, it's on the Bloomberg Terminal.
LEARN MORE