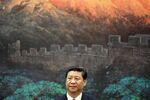 China's new leaders are talking nice. The country's "ambitious" reform plans will provide "enormous" opportunities for the world, said premier Li Keqiang on May 27 at a business forum in Berlin, citing plans for industrialization and urbanization, as well as agricultural and technological upgrading. China and the U.S. must "build on past successes and open up new dimensions for the future," stated president Xi Jinping while meeting the U.S. National Security Advisor Thomas Donilon in Beijing on the same day.
Li's and Xi's latest words follow a series of equally buoyant statements suggesting that the new leadership is preparing to break a logjam of reforms inherited from its predecessors. Possible initiatives include opening the economy to greater competition from private and foreign enterprises, slashing red tape, loosening government controls on where Chinese can live, and strengthening social welfare while taxing China's most-polluting and energy-consuming industries. The reformist talk comes against a backdrop of slowing growth, with the first quarter's 7.7 percent rise in gross domestic product even lower than the 7.8 percent rate for all of last year (which in turn, was China's slowest growth in 13 years.)
On March 17, just after assuming the premiership, Li called economic reform the "biggest dividend for China," saying that efforts to limit government influence over the economy were a "self-imposed revolution" but one that would "be very painful and even feel like cutting one's wrist." More recently, in a speech on May 13, Li said Beijing must continue to cut bloated government approvals that are inhibiting the growth of private enterprise. Instead, he said, Beijing must limit the role of state-led investment and "rely upon the market mechanism."
And in an address to a group of top Party leaders on May 24, Xi said that China must not sacrifice its environment in pursuit of economic growth: "A sound eco-environment is the basic foundation for the sustainable development of humans and society," he said. "We have to understand that to protect the environment is to preserve our productivity."
Despite the cheering rhetoric, don't hold your breath in anticipation of rapid, sweeping change. Curbing China's egregious environmental problems for example, will be hampered by the high costs of implementing new pollution and emission control systems. Many of China's industries, including steel and cement, are already struggling with overcapacity and falling product prices.
Nor should you expect significant movement on economic reform until after October's party plenum, a key government meeting at which new leaders typically unveil significant policy changes. The most famous of these was the third plenum in late 1978, when then-paramount leader Deng Xiaoping announced China's reform and opening policy, ending the country's autarchic Maoist policies.
A further challenge will be to persuade everyone that this time, the reforms are for real. Almost 10 years after China amended its constitution to protect the rights of private business, entrepreneurs continue to face formidable obstacles in getting access to credit that's controlled by China's state-owned banks and in winning business contracts while competing with state enterprises. Some economists remain skeptical that Beijing is ready to throw open cossetted state sectors to genuine competition, given the vested interests—including powerful oligopolies in telecoms, finance, power and energy—that benefit from the present system.
Meanwhile, U.S. businesses surveyed recently cited market access barriers, concerns about unclear regulations, and slower growth prospects as contributing to growing pessimism about the China market. The percentage of American companies saying that China's investment environment was improving has dropped to 28 percent, from 43 percent a year ago, the American Chamber of Commerce in China reported (PDF) on March 29. And 35 percent of respondents "believe industrial policies favor state-owned enterprises (SOE) to the detriment of their own company," the report stated.
Before it's here, it's on the Bloomberg Terminal.
LEARN MORE