Jumeirah Said to Raise $1.4 Billion as Dubai's Costs Drop
Samuel Potter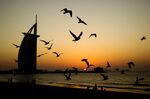 Jumeirah Group LLC is raising $1.4 billion in a six-year loan as the operator of Dubai's iconic sail-shaped Burj Al Arab hotel takes advantage of a drop in borrowing costs, two bankers familiar with the plan said.
State-owned Jumeirah will pay 2.75 percentage points above the London interbank offered rate for the loan, according to the bankers, who asked not to be identified because the information is private. Lenders have been given four weeks to respond with commitments to the facility, they said. Piers Schreiber, vice president Corporate Communications & Public Affair at Jumeirah, declined to comment.
Investor appetite for Dubai assets has improved as state-linked companies paid or refinanced about $4.65 billion of debt since the start of 2012. Dubai's five-year credit default swaps, which measure the cost of insuring the emirate's debt, have tumbled almost 50 percent in the past 12 months.
"Dubai sovereign CDS is trading around the tightest levels since the Dubai World crisis in 2009," Chavan Bhogaita, head of markets strategy at National Bank of Abu Dhabi PJSC, the biggest lender in the United Arab Emirates, said by e-mail today. "There's certainly strong appetite from international investors, and indeed banks, for Dubai exposure."
Swaps Rally
State-run Dubai Electricity and Water Authority secured more than $5 billion of bids for its $1 billion Islamic bond sale in February. Investment Corp. of Dubai increased the size of a planned loan this month to $2.45 billion from $2 billion, according to two bankers familiar with the deal.
Dubai's default swaps tumbled to 203 basis points, or 2.03 percentage points, on May 24 from 390 basis points a year earlier, according to data provider CMA, which is owned by McGraw-Hill Cos. and compiles prices quoted by dealers in the privately negotiated market. They soared to almost 1,000 in 2009 during the height of the emirate's debt crisis.
Dubai Holding Commercial Operations Group LLC, Jumeirah's parent, has 10 billion yen ($99 million) of bonds maturing on July 3, and 750 million euro ($970 million) of bonds due on Jan.
30. The new Jumeirah loan could be used to help repay the debt, one of the bankers said.
"It would make sense for the group to raise funding through one of its better performing and indeed better regarded subsidiaries, such as Jumeirah Group," said Bhogaita. "This would likely result in a lower cost of funding than if DHCOG were to seek funding at the group level."
Bonds Rise
DHCOG's 4.75 percent bonds maturing in January were trading at 100.2 cents to the dollar at 11:42 a.m. in Dubai, according to data compiled by Bloomberg. The price had fallen to as low as
52.25 cents to the dollar in February 2009.
The new Jumeirah loan will include both Islamic and non-Shariah compliant tranches, the bankers said. It will be repaid in installments with the final payment coming in six years, they said. The owner and operator of hotels from China to the U.K. hired Standard Chartered Plc, HSBC Holdings Plc and Abu Dhabi Commercial Bank PJSC to arrange the loan, the bankers said.
MEED reported the size of the loan and the banks involved yesterday.
Jumeirah Chief Executive Officer Gerald Lawless said this month the company will start building a 430-room hotel in Dubai.
Jumeirah's revenue grew 12 percent in 2012 to 3.11 billion dirhams ($847 million), according to Dubai Holding Commercial Operations Group's annual report. Gross profit at the hotel operator, which doesn't disclose standalone financial results, jumped 26 percent to 1.42 billion dirhams. The company had assets of 12.7 billion dirhams at the end of last year.
Before it's here, it's on the Bloomberg Terminal.
LEARN MORE