Q: When Is a Cliff Dive Good For Sales? A: When It's Sponsored by Red Bull
By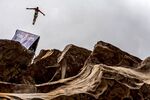 Leaping, or merely dropping, from a height of 27 meters (88 feet), a 170-pound man accelerates to a speed of 50 miles per hour before hitting the surface below. If that surface is water, as it will be beneath the Saint Nicolas Tower in La Rochelle, France, at the Red Bull Cliff Dive Series opener this weekend, and the falling man is an expert diver, as the athletes in this contest surely are, he has a little over three seconds to dazzle the crowd with acrobatic twirls and whatnot and prepare himself to enter the water properly. Failing to do so could be catastrophic because 88 feet is roughly the equivalent of eight stories. Water, like concrete, isn't compressible. If you were to belly-flop at 50 mph, you'd strike the water with more than 32 tons of force and almost certainly die. And that, of course, is critical to the thrill of witnessing these dives—about 70,000 gather in La Rochelle to watch in person—and why it's a perfect addition to Red Bull's perennial Olympics of arcane and perilous sports.
Starting in 1988 with the Red Bull Dolomitenmann, a four-sport (quadathlon?) wilderness race, the Austrian energy drink company has become the single most diversified corporate patron of sports the world over. It owns professional sports teams outright (e.g., Major League Soccer's first place New York Red Bulls and the dominant Formula One racing outfits Toro Rosso and Red Bull). It produces a wide range of competitions (Red Bull X Fighters, Red Bull Music Academy). And it sponsors 600 athletes in sports as varied as BMX Supercross, free-skiing, ice-climbing, and snowboarding's half-pipe. Along the way, it has mastered the art of the spectacle, or what might be called they-could-die marketing—epitomized by last year's "Red Bull Stratos," Felix Baumgartner's fall to earth from 128,000 feet up, which was watched live by 8 million people around the globe. (A spokesperson for privately held Red Bull declined to share the metrics the company uses to assess the exposure the brand received for Baumgartner's touchdown; his "supersonic" freefall has been viewed 34 million times on YouTube.)
What Red Bull will confirm: The company spends approximately one-third of its total annual revenue on marketing globally. Given that Red Bull raked in $6.7 billion in 2012, that means it spent roughly $2.2 billion on marketing last year. About 20 percent of that—around $440 million—is spent on sports events and athletes. While it does offset costs by teaming up with others, including Nike, Red Bull owns and operates the events.
Sadly, several Red Bull athletes have lost their lives attempting ever-more sensational stunts. One, extreme skier Shane McConkey, was featured in the documentary McConkey, a well-received entry in this year's Tribeca Film Festival. Red Bull underwrote the film as a tribute to him.
One of Red Bull's longest-standing events is the Flugtag—essentially a showcase for DIY flying machines. Entrants bring their hand-made, go-cart style airplanes and gyrocopters and launch them from a ramp to see if they can indeed fly. Since 1991, Red Bull has produced more than 100 Flugtags. (On September 21, Red Bull Bull Flugtag will take off in Washington, Miami, Chicago, Dallas, and Long Beach.) At the Flugtag, at least, only one's dignity is on the line.
Before it's here, it's on the Bloomberg Terminal.
LEARN MORE