Hidden Hand: Steve Castor, the GOP's Get-Obama Lawyer
Chief Counsel, House Committee on Oversight and Government Reform
By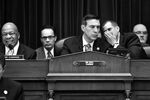 No one in the White House looks forward to a call from Steve Castor. The lawyer in charge of the GOP's numerous probes of the Obama administration—the Internal Revenue Service targeting of the Tea Party, the handling of the attack on the U.S. diplomatic mission in Benghazi—is known for inundating officials with demands for answers and documents. His boss, Oversight Committee Chairman Darrell Issa of California, frequently goes on TV to accuse Obama of stonewalling.
Behind the scenes, Castor and his staff of 35 assemble details, line up witnesses for the committee to question, and write voluminous, minutely footnoted reports that boil down shades-of-gray situations into black-and-white narratives with heroes and villains.
Coaxing whistle-blowers to come forward is one of an investigator's most important skills, says Castor, who's been with the committee for eight years: "We're in the storytelling business, the business of putting the pieces together."
Issa's hearings "lack credibility," says Democratic Representative Henry Waxman of California, who once chaired the committee. "The purpose of an oversight investigation is not to simply try and make the president look bad."
Castor rejects the notion that he's pushing an anti-Obama story line. "We follow the facts," he says. "This administration is uncomfortable with oversight."
Before it's here, it's on the Bloomberg Terminal.
LEARN MORE