Don't Let House Lust Overrule Common Sense
by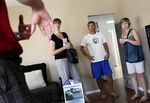 If you live on either coast, you've probably already seen this: the housing sales market is getting downright frothy. Here's a Bloomberg story about a $190 million listing (not a typo) for a home in Greenwich, Connecticut. That's froth. As Bloomberg News also reported recently, the frenzy has been sparked ``by the Federal Reserve's drive to push down borrowing costs, a scarcity of listings and Wall Street's new appetite for foreclosed homes.''
And today comes word that sales of previously owned U.S. homes rose in April to the highest level in more than three years.
While that's great for sellers in those markets, it can put buyers in a jam if sellers insist that you waive a mortgage contingency clause as a condition of accepting your offer. (These clause let buyers get out of a purchase, generally without a penalty, if they can't qualify for the loan.) In a hot market , buyers may agree to it -- afraid of losing out to multiple bidders when the real estate agent tells them there are offers coming in, or simply to present a stronger offer.
That could be a mistake. With mortgage lending standards stricter than ever, agreeing to waive a mortgage contingency may mean losing your deposit if you fail to complete the sale (or mean tying it up in a legal dispute over whether you're entitled to get it back). If you need financing to make the purchase, think twice before giving up that protection. There will always be another house. Losing a chunk of your down payment may be a lot harder to replace.

A quick informal poll of a few real estate agents said they hadn't seen this popping up yet, although they urged caution before removing that contingency. One said that only if a buyer plans to get financing just because rates are so low -- but doesn't need it to complete the purchase -- would they recommend not including a mortgage contingency clause.

Have any readers encountered this? Tell us about it in the comments section.

Before it's here, it's on the Bloomberg Terminal.
LEARN MORE