business
Funny Business: One Yale MBA's Route From McKinsey to Comedy
By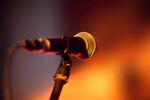 Most stand-up comics don't have a résumé like Anish Shah's. The Yale MBA and former McKinsey consultant began performing at open-mic nights in 2011 and booked enough shows thereafter to leave his job at IBM and hit the road full-time. His niche, of course, is telling jokes about the corporate world, which led to development of the "B-School Made Me Funny" tour. Shah played more than 40 shows in cities near business schools, including the Yale School of Management, Dartmouth's Tuck School of Business, the Thunderbird School of Global Management, and UCLA's Anderson School of Management before ending in New York last week. He spoke about the tour with Bloomberg Businessweek's Erin Zlomek. Below are edited excerpts of their conversation.
Describe your show.
In B-school, everyone is acting like they're solving the world's biggest problems—people have these elaborate conversations and use the weirdest phrases, and the interview process is crazy and you have all these investment bankers who actually think they are going to be happy with their jobs after they graduate. Writing material for the show was really fun, because I was looking back at my B-school experience through this lense. When you're out, you can poke fun at the dichotomy. That's the essence of my show.
In my routine, I sometimes invited a local business personality up onstage with me to do a Daily Show-style interview. At a number of schools, if I found a couple had gotten engaged in B-school, I invited the guy onstage to give him some advice.
One of the best parts of the tour was hanging out and talking with the students afterwards. The most common question was how my parents felt about [my] going from McKinsey consultant to comedian. My answer was always the truth: "McKinsey, comedian, janitor … it's all the same to my parents, because none of them are 'doctor.'"
How did you get started?
After B-school, I was at McKinsey for five years and then went to a small tech startup, and then IBM swooped in and bought us. It was exciting, but at that point in my life I wanted to be at a small tech company, and now I was part of IBM. I'm entrepreneurial and felt the need to start developing something on the side, so I started doing open-mic nights and it took off. I was able to book some private events and then bigger shows, and then it got to the point where I felt like this could be a real thing. When my contract with IBM ended, I thought I'd give comedy a try full-time.
What's next for you?
In June, I'm going back to perform for McKinsey. As one of my next steps, I'd like to develop a broader roster of corporate clients where I can go into a business's building and perform. I also think I'll continue to do the B-school tour—we've had conversations with almost half of the schools to bring it back next year.
Did your sense of humor help you at McKinsey?
Yes. In comedy you deal with drunken hecklers, and in the corporate world you deal with people who don't like your PowerPoint. Both audiences are looking at you skeptically. The business world is really one of the most fun places, and it helps if you have a sense of humor about it and can poke fun at it.
Join the discussion on the Bloomberg Businessweek Business School Forum, visit us on Facebook, and follow @BWbschools on Twitter.
Before it's here, it's on the Bloomberg Terminal.
LEARN MORE