Euro-Area Exports Increase for Third Month on Germany: Economy
Corina Ruhe and Marcus Bensasson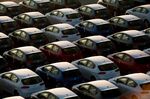 Euro-area exports increased for a third month in March as the currency bloc's four largest economies all shipped more goods, adding to signs the region is beginning to emerge from a record-long recession.
Exports rose a seasonally adjusted 2.8 percent from February, when they increased 0.2 percent, the European Union's statistics office in Luxembourg said today. Imports decreased 1 percent after a 2.2 percent drop a month earlier. The trade surplus widened more than economists estimated to 18.7 billion euros ($24.1 billion) from 12.7 billion euros.
The euro-area economy contracted 0.2 percent in the first three months of 2013, extending its recession to a sixth quarter and increasing pressure on leaders to spur growth. The ECB forecasts the euro economy will shrink 0.5 percent this year, while the European Commission sees a 0.4 percent contraction.
"Net exports contributed positively to the bad growth figure in the first quarter," Carsten Brzeski, senior economist at ING Group in Brussels, said by telephone. "This was the only positive factor in the first quarter."
The euro pared losses after the data were released, trading at $1.2874 at 11:08 a.m. in Brussels, down 0.1 percent on the day. The Stoxx Europe 600 Index was down 0.2 percent to 307.58.
Rate Cut
"Looking ahead, euro area export growth should benefit from a recovery in global demand and our monetary policy stance should contribute to support domestic demand," European Central Bank President Mario Draghi said on May 2, after the ECB cut its key interest rate to a record low of 0.5 percent.
The ECB's rate cut came after the EU's statistics office estimated that inflation slowed to 1.2 percent in April, the lowest since February 2010. Eurostat confirmed that reading today in a separate report. The annual core inflation rate, excluding such volatile costs as energy, food, alcohol and tobacco, fell to 1 percent from 1.5 percent. Energy costs declined an annual 0.4 percent.
Inflation has been below the ECB's 2 percent ceiling since February. The Frankfurt-based central bank sees inflation at 1.6 percent this year and 1.3 percent in 2014.
The first-quarter contraction "reinforces pressure on the ECB to come up with further measures to try and support euro-zone growth," Howard Archer, an economist at IHS Global Insight in London, said yesterday. "An interest rate cut to 0.25 percent looks ever more possible."
Car Production
Exports from Germany, Europe's largest economy, increased 3.2 percent in March to 40.6 billion euros, today's report showed. French shipments rose 3.1 percent, while Italian and Spanish exports grew 0.5 percent and 5.3 percent, respectively.
Continental AG, Europe's second-largest auto-parts maker, said yesterday that it will maintain investments in 2013 at last year's level as global production of cars and light trucks rises 2.5 percent. Spending will be focused on expanding tire plants in the U.S., Russia, China and Brazil, Chief Executive Officer Elmar Degenhart said.
As European demand slows, Fiat SpA Chief Executive Officer Sergio Marchionne is considering moving the carmaker's headquarters to the U.S. from Turin, Italy, three people familiar with the matter said. The main sources of revenue and profit for Fiat, Italy's biggest manufacturer, are shifting to North America. Fiat generated 75 percent of 2012 operating profit in North America.
'Disappointing' Demand
Euro-area unemployment has reached a record 12.1 percent as governments increase taxes and cut spending to contain public deficits, damping demand for imports. Retail sales fell for a second month in March.
Declining imports indicate that "demand, mainly in southern European countries, is disappointing," Brzeski said.
Still, consumer confidence unexpectedly increased in April, adding to signs the currency bloc will emerge from a recession in the second quarter. The economy is forecast to stagnate in the second quarter and return to growth in the third, according to a Bloomberg News survey of economists.
Export growth, aided by the yen's 20 percent slide against the dollar in the past six months, is also boosting Japan's economy, which expanded the most in a year last quarter. Gross domestic product rose an annualized 3.5 percent, a Cabinet Office release showed in Tokyo today.
In the U.S., housing starts probably fell in April from an almost five-year high, indicating a pause in the industry's progress as builders slowed work on apartment buildings, economists said before a report today.
Before it's here, it's on the Bloomberg Terminal.
LEARN MORE