Sharp Predicts First Profit in Three Years on LCD Revival
Mariko Yasu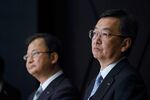 Sharp Corp. forecast its first annual profit in three years as Japan's largest maker of liquid-crystal displays expects orders to recover after signing a deal with Samsung Electronics Co.
Net income may be 5 billion yen ($49 million) in the year started April 1, compared with a loss of 545 billion yen a year earlier, the Osaka-based company said in a statement yesterday. The projection beat the 2.1 billion-yen average of 13 analyst estimates compiled by Bloomberg.
Japan's third-largest maker of televisions expects its LCD unit to make money this year after cutting jobs and selling stakes to Samsung and Qualcomm Inc. Sharp, which lost 921.4 billion yen the past two years, turned its biggest display plant into a venture with Taiwanese billionaire Terry Gou to boost sales through his Foxconn Technology Group, the world's biggest contract manufacturer of electronics.
"The Foxconn venture and the tie-up with Samsung are bringing in more display orders," Kota Ezawa, an analyst at Citigroup Inc. in Tokyo, said before the announcement. The weakening yen is "also positive," he said.
Sharp fell for the first time in eight days, dropping 6 percent to 499 yen at 9:17 a.m. in Tokyo trading and paring its gain this year to 65 percent. The shares plunged 55 percent in 2012.
Loans Agreement
Sharp also released its midterm plan targeting net income of 80 billion yen and operating margin of 5 percent on 3 trillion yen in sales for the year to March 2016. The electronics maker will strengthen ties with large customers for LCDs, focus on big-screen TVs and shrink its overseas solar business during the next three years to boost earnings, it said.
The company said it has an "informal agreement" with lenders Mizuho Financial Group Inc. and Mitsubishi UFJ Financial Group Inc. to continue 360 billion yen of loans due June 30. Sharp will get a 150 billion-yen loan from lenders to redeem convertible bonds, Tetsuo Onishi, Sharp's senior executive managing officer in charge of accounting, said yesterday.
Operating profit, or sales minus the cost of goods sold and administrative expenses, will be 80 billion yen this fiscal year, while revenue is expected to rise to 2.7 trillion yen, the company said yesterday.
Samsung Deal
Sharp also will promote Executive Vice President Kozo Takahashi to replace Takashi Okuda as president. Okuda will become chairman, succeeding Mikio Katayama, pending shareholder approval at the June 25 annual meeting.
"We have caused troubles to our shareholders and other stakeholders," Takahashi said in Tokyo yesterday. "We are deeply sorry. My mission is to put all my efforts into recovery."
LCDs will remain Sharp's core business, Takahashi said. The unit will probably turn an operating profit of 30 billion yen this fiscal year after losing 139 billion yen in the year ended March. Sharp plans to boost LCD sales to more than 1 trillion yen by March 2016, he said.
"It's hard to foresee," said Yasuo Nakane, an analyst at Deutsche Bank Group. "Sharp's LCD operation faces variables such as orders from Apple and Samsung and prices."
The Japanese company raised 10.4 billion yen in March by selling shares to Samsung, Asia's biggest electronics maker. The investment will secure a supply of LCDs from Sharp, Samsung said March 6. Samsung accounted for about 1.7 percent of Sharp's sales last year, according to data compiled by Bloomberg.
Sharp, which also makes smartphones and tablet computers, joined Sony Corp. and Panasonic Corp. in projecting improved earnings this fiscal year after cutting jobs and selling assets.
Sony, Panasonic
Sony said last week net income may rise 16 percent this fiscal year as the company expects to sell more TVs and smartphones. Panasonic projected annual net income of 50 billion yen, its first profit in three years.
Japan's three biggest TV makers are benefiting from a weakening yen that's boosting the repatriated value of overseas earnings even as they lose market share to South Korean rivals.
Sharp's share of revenue in the global flat-panel TV market dropped to 5.4 percent last year from 6.6 percent in 2011, according to researcher DisplaySearch. Suwon, South Korea-based Samsung boosted its share to 27.7 percent.
Sharp expects TV sales this year of 8 million, compared with 8.03 million a year earlier.
In July, Sharp sold a stake in its largest LCD plant to Gou. Output at the plant, which dropped to 30 percent of capacity before the deal, has recovered, Onishi said yesterday.
The 100-year-old company, which supplies screens for Apple Inc.'s iPad and iPhone 5, is mulling ways to boost capital as Onishi said it targets a return to the debt capital market. Sharp's equity ratio slid to 6 percent as of March 31, from 23.9 percent a year earlier, the company said yesterday.
In December, Sharp agreed with San Diego-based Qualcomm, the biggest maker of mobile-phone chips, on a 9.9 billion-yen share sale in two steps.
Before it's here, it's on the Bloomberg Terminal.
LEARN MORE