China's Counterfeit Condoms
Christina Larson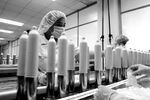 Along with fake Gucci handbags and fake Apple iPhones, add to the list of counterfeit items produced in China: fake Durex condoms. As China Daily reported Wednesday, police in Fujian province confiscated more than 2 million condoms falsely labeled as Durex, Contex, and Jissbon products, following a March 29 raid.
According to police reports cited by the newspaper, the two factory bosses had launched their counterfeit condom business in December. They purchased condoms from a factory in Hebei province and packaging materials from another factory in Guangdong province. Their small staff of workers simply put the condoms in the wrappers—some 20,000 condoms a day—and the items were then sold to small supermarkets and adult shops and through online retailers.
The police did not specify whether the condoms seized in the raid were faulty. Another recent case, however, gives reason to worry. In April, public health authorities from Ghana impounded more than 1 million substandard condoms, many of them imported from China. "When we tested these condoms, we found that they are poor quality, can burst in the course of sexual activity, and have holes which expose the users to unwanted pregnancy and sexually transmitted disease," an official from Ghana's Food and Drug Administration told The Guardian. The country's FDA discovered that many of the condoms came from a factory in China's Henan province.
At a time when Chinese people are inundated with headlines about poorly regulated bottled water and toxic baby formula, the condom raid just adds to the list of now-in-doubt consumer products.
Durex is otherwise a well-known and popular brand in China, which last made news in November when its official Sina Weibo microblog account posted photos of Michelle Obama and Ann Romney gesturing with their hands held at various distances apart, and the attention-grabbing caption: "The difference between Obama and Romney is …." Mrs. Obama's hands spanned the greater length. The photo was reposted more than 60,000 times.