pursuits
Pitching a Startup While Pregnant
By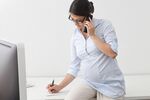 Pitching a business to outside investors is a high-stakes, high-anxiety proposition, but doing it while keeping an early stage pregnancy under wraps is particularly difficult, says Melissa Miranda. She didn't announce that she was pregnant when she presented her Silicon Valley tech startup, Tiny Post, to investors in January 2012.
"It wasn't something we were trying to hide. We figured if anybody asked, we'd tell them," recalls Miranda, who was in her first trimester and who raised the $325,000 in seed-stage money she needed without the topic coming up. The photo-sharing app she founded with her husband was acquired by TripAdvisor in March.
But Miranda found the process of pitching while pregnant so awkward that she blogged about it.
Linsey Willaford-West, the founder of London-based online-hiring software company ETeamUps, didn't have the luxury of keeping her pregnancy private while looking for capital. "The process took a lot longer than I anticipated," she says. "I hoped to close a round before I even started showing, but we tweaked our business model, and by the time I met my current investors, I was five months pregnant." The final paperwork was signed a couple of weeks before her daughter was born in mid-September 2012.
Her senior investors, all men, asked about her pregnancy at a due diligence session. "The conversation was frank and fairly brutal. One of them said, 'Either you just had a big meal or you're pregnant.' We set clear expectations about the arrangements I'd make after my maternity leave, and I was impressed that they went through with it. I thought no one would fund a pregnant woman," she says.
Even without a baby on the way, female tech entrepreneurs often have a hard time connecting with the mostly male private investment community. "The overall trend is that it's more difficult for women. Very often I was the only woman in the room" when meeting with investors, Miranda says. "Once in a while you come across a woman investor, and suddenly you have so much to talk about. With the men, you don't have that initial rapport."
Danna Greenberg, an associate management professor at Babson College who has studied pregnancy and women entrepreneurs, thinks the baby question reveals a double standard toward women because male founders are not asked if their wives are pregnant. "I don't like the question because there's an assumption that a woman's responsibility as a mother is in direct conflict with her ability to be responsible to her company," she says. "I don't think it's unreasonable for a VC or an angel [investor] to ask, but I hope they can find a way to do it in a supportive way, rather than turn it into a grilling."
With professional women now pushing first-time pregnancies into their mid-30s, more founders will be facing this situation, she predicts. "Within the next decade, given where the [demographic] numbers are heading in terms of women and men in the workforce—and the percentage of household earnings being made up by women—we will be moving toward a situation where it may be likely that men are picking up a larger percentage of the child care than women are," she says.
Working from home while taking short maternity leaves and quickly making the transition back to working in the office is common among female entrepreneurs. Hiring professional care and bringing extended family into the house are becoming more popular as well. "We're shifting, so the model of a stay-at-home spouse of either gender is not likely to be viable economically in the future," Greenberg says.
Early in pregnancy, women are under no obligation to disclose it to anyone if they don't want to, she says. She encourages women who are visibly pregnant to talk about their expectations for maternity leave and their plans to return to work. "Have that be part of your pitch. It says you are as invested in your professional identity and the organization you're creating as you are in your family and personal life. It will strengthen your ability as an entrepreneur."
In 2011, an investor blogged about his concerns over Jessica Jackley's ability to manage ProFounder, a Web-based startup-funding platform, and her pregnancy with twins. She felt obliged to respond both publicly and privately. "I called and talked to him and asked if he wanted his money back. We had an emotional conversation. In my response to his blog post, I asked if anyone would ask this question to a father," says Jackley, who co-founded the donation platform Kiva in 2005.
After her twins were born in September 2011, Jackley says, she did have to work hard to balance her work and family obligations. "With two and being a first-time mom, I took on so much stress. I would have been a healthier and happier person had I been working on something that gave me a little more space and flexibility than the pace of a venture-backed startup company," she says.
ProFounder closed its doors in February 2012, not because of Jackley's work-family balance issues but because the game-changing crowdfunding provisions of the JOBS Act of April 2012 would have entailed an overhaul of the company's business model, she says. Jackley now works as a venture partner at The Collaborative Fund, speaks about social entrepreneurship and microfinance, and has a new project in the works.
It's not easy, but tech entrepreneurs can make the transition to motherhood during a company's startup phase, says Willaford-West, who is now marketing her online hiring tool to midsize and large companies and expects $500,000 in 2013 revenue. "Don't make any assumptions. Don't assume you're unfundable or that people expect certain things of you" because you are pregnant, she says. "Every investor is different. It probably is going to be more difficult because you have some bias there, but don't let that stop you."
With a successful exit behind her and a happy 9-month-old daughter, Miranda says she doesn't expect to be challenged by skeptical investors the next time she pitches a startup idea: "If you're a woman and you push ahead no matter what, you're going to get through. If you have good numbers and a lot of traction, users, and growth, I don't think it really matters who you are—or if you're pregnant with quadruplets."
Before it's here, it's on the Bloomberg Terminal.
LEARN MORE