With the Fed's Help, Bond Investors Hope to Avoid a Repeat of 1994
Clear signals from the Fed on rates may prevent a market rout
by and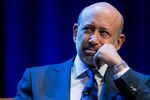 Bond investors have a lot to be anxious about. With interest rates near record lows, it's not a question of whether but when rates will start rising again. Lloyd Blankfein warns that today's interest rate environment has parallels to 1994, when then-Federal Reserve Chairman Alan Greenspan surprised the market by doubling benchmark rates in 12 months. "I worry now—I look out of the corner of my eye to the '94 period," Blankfein, chief executive officer of Goldman Sachs, said on May 2 at an Investment Company Institute conference in Washington. He recalled how investors used to low rates were shocked when borrowing costs rose, leading to selloffs in the bond and stock markets.
Others on Wall Street say this time will be different, in part because of Fed Chairman Ben Bernanke's clearer and frequent statements on what would cause central bank policy to change. "The Fed is working very hard to improve the clarity of their communication," says William Irving, a money manager at Fidelity Investments. "And they're particularly worried about avoiding a repeat of 1994."
When interest rates rise, the market value of existing bonds falls; bonds with longer maturities are especially vulnerable. Understanding the Fed's intentions would help investors adjust their portfolios in an orderly way to avoid big losses from rising rates—by shifting money to shorter-maturity bonds or to stocks—and might prevent panic selling of bonds at the first signs of a rate hike.
From February 1994 to February 1995, the Fed doubled its benchmark rate to 6 percent from 3 percent. The stock market fell 7.3 percent in the eight weeks after the first increase. Goldman Sachs, a partnership at the time, suffered a drop in capital as a result of bond losses and raised $250 million by selling a stake in the firm to a Hawaiian trust.
On May 1, the Fed announced it was leaving in place its plans to hold its target interest rate at about zero as long as unemployment remains above 6.5 percent and the outlook for inflation doesn't exceed 2.5 percent. It also said it will continue to buy bonds at the current pace of $85 billion a month. At a March 20 press conference, Bernanke provided a road map on what needs to happen before the Fed trims its monthly bond purchases. The central bank will adjust in a "sensitive way" based on several measures, including payrolls, wages, and unemployment claims, he said.
That's not how the central bank communicated in 1994, when Green-span used opaque language to avoid rattling the markets. "You construct what we used to call Fed-speak," he said last year, describing his philosophy of communicating with the public. "Nobody was quite sure I wasn't saying something profound when I wasn't. It's a self-protection mechanism. When you're in an environment where people are shooting questions at you, and you've got to be very careful about the nuances of what you're going to say and what you don't say."
Greenspan's tactics had the intended effect of keeping investors guessing, says Michael Materasso, a senior money manager at Franklin Resources. "In 1994," he says, "what you had to do was refer back to a speech Greenspan gave in October where if you held it up to the light and turned it 45 degrees, well, of course it said: 'We're going to raise rates in three months.' "
Fidelity's Irving says that given the market's intense concerns about a potential rate hike, investors probably won't be caught off guard this time. "If people are super-focused on a risk, chances are that risk doesn't materialize," he says. "Something else that surprises people is what materializes."
Before it's here, it's on the Bloomberg Terminal.
LEARN MORE