Why DirecTV Will Take a Pass on Mobile
CEO White isn't following rival Dish into wireless technology
by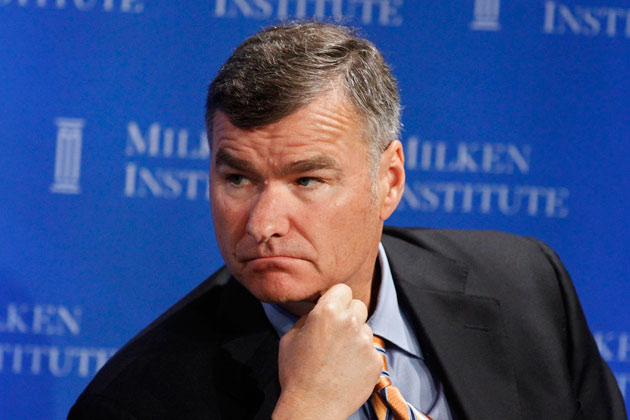 DirecTV and Dish Network, the two largest U.S. satellite-television companies, spent two decades building their businesses and chasing subscribers with essentially the same strategy: promising more channels, better service, and lower prices than cable. While Dish has embarked on a daring diversification strategy into mobile services with a $25.5 billion bid to take over Sprint Nextel, industry leader DirecTV plans to stick to what it knows, according to Chief Executive Officer Michael White. "Wireless, for us, doesn't make sense," White says. "We have an amazing product. It's in-home theater."
DirecTV has more than 20 million subscribers, second only to Comcast among U.S. pay-TV companies, and White says that leverage means better terms from TV networks. The flip side: DirecTV has been vulnerable to the climb in network programming fees, which have jumped more than 10 percent in the past year. In February, White responded by increasing monthly subscription rates 4.5 percent, to an average of $71 a month, for its most popular package ($125 for the top-end one) and tacking on a regional sports fee of $3 a month in 20 percent of the U.S. households it serves. Customers balked. DirecTV received more consumer blowback about pricing in February and March than the company had seen in years, says White, who doesn't regret the moves. "Other than the bill, consumers have to realize this is the golden age of video programming," he says.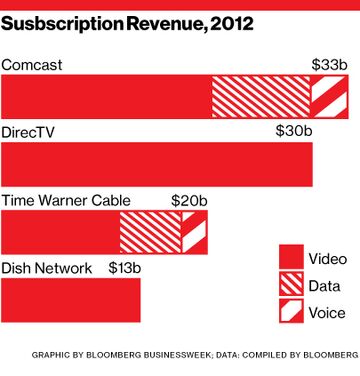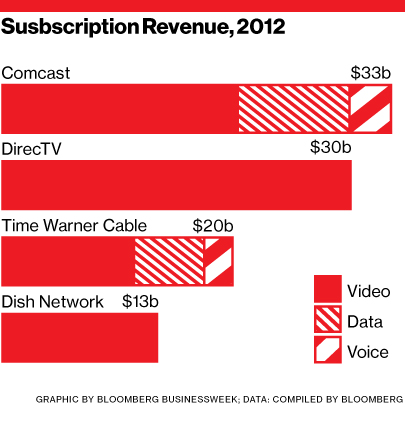 To keep customers loyal, DirecTV relies on exclusive programming—most notably its NFL Sunday Ticket program, which delivers regional Sunday-afternoon games broadcast on local Fox and CBS affiliates to subscribers anywhere in the U.S. About 10 percent of U.S. subscribers receive Sunday Ticket, which costs DirecTV about $1 billion a year. Its NFL contract will be up for renewal in 2015; Sunday Ticket viewers are some of the company's best customers, and "we wouldn't want to lose them," White says. Chief Financial Officer Pat Doyle said in March, however, that DirecTV would consider a nonexclusive deal if the NFL seeks too large an increase. NFL spokesman Brian McCarthy says, "DirecTV has been an excellent partner for nearly 20 years. They understand the value of the NFL to their business."
Football may not be enough. DirecTV posted its first-ever quarterly net customer loss last year, and while subscriptions rose for 2012 overall, growth hasn't returned to earlier levels. The company will probably lose customers again this quarter, White says. A similar slump is driving Dish Chairman Charlie Ergen's attempt to buy Sprint, for which Japan's SoftBank is also bidding. More consumers want to view video on mobile devices, so it's a natural for a pay-TV company to team up with a wireless carrier, Ergen said last month during a conference call with reporters. "There's no one company on a national scale that puts it all together," he said.
White says competing U.S. carriers are too entrenched for DirecTV to challenge, but his Latin America unit has been snapping up wireless spectrum from local governments to sell Internet and landline-phone plans. DirecTV, like Dish, has examined packaging TV over the Internet, which would eliminate the cost of installing a satellite dish for every customer. The primary hurdle has been getting access to digital rights for delivering TV online or on mobile devices. Two years ago, DirecTV expressed interest in but hasn't bid for Netflix, Hulu, and GVT, Vivendi's Brazilian phone and Internet unit. DirecTV's lack of bold moves is a problem, says Vijay Jayant, an analyst at ISI Group. Telsey Advisory Group analyst Jaison Blair says there's virtue in consistency. "You don't need things to get great, you just need things to not get bad," Blair says, citing DirecTV's improvements to its profit margin as growth slows. "We think there's a very attractive return potential from here."
A new 6 percent stake from Warren Buffett's Berkshire Hathaway, now DirecTV's third-biggest investor, has buoyed DirecTV's stock price for more than a year. Eventually, White says, rising subscription costs will push pay-TV customers to either cancel in droves or demand intervention from Congress. One way to avoid that, he says, is for operators to limit cost increases by blacking out networks that push for higher prices. DirecTV took Viacom out of its lineup for 10 days in July to avoid a large rate spike. "I hope enough of us can take a stand to slow down the train before we all crash," White says.
Before it's here, it's on the Bloomberg Terminal.
LEARN MORE