Review: 'The Great Gatsby' Is Too Rich and Too Thin
Baz Luhrmann's The Great Gatsby is too rich and too thin
by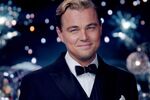 There's a scene early in The Great Gatsby, Baz Luhrmann's adaptation of F. Scott Fitzgerald's classic eighth-grade required reading, in which Nick Carraway, played by a familiarly wide-eyed Tobey Maguire, sees a car full of black dandies and flappers. They're sipping Moët and dancing wildly to Jay-Z's Izzo (the movie, set in 1922, has a modern soundtrack); the camera slows down and lingers lovingly on the champagne bottle labels as Jay-Z raps nonsense like "Fo' shizzle my nizzle." Is Luhrmann commenting on the racial politics of the Jazz Age? Is he somehow connecting expensive alcohol to greed? Does he just really like the song?
Turns out he's not saying anything. Moët & Chandon is an official sponsor of the film, and the French champagne brand is releasing a 1921 vintage to coincide with the movie's première on May 10. "Advertising is a racket, like the movies and the brokerage business," Fitzgerald wrote in a letter to his daughter in 1940. But Luhrmann, the Australian who also directed 1996's Romeo + Juliet, 2001's Moulin Rouge!, and 2008's widely mocked Australia, needed all the help he could get. His initial financing deal with Sony fell through in 2010 after the studio couldn't promise more than $80 million. Warner Bros. and Village Roadshow Pictures eventually bailed out the production and have been promoting Gatsby nonstop in an effort to make good on their investment. The final price tag was more than $100 million, according to the Hollywood Reporter.

Even for Luhrmann, who specializes in spectacle, Gatsby feels like a carnival. There's line dancing, drunkenness, Lana Del Rey music, and an astonishing number of handlebar mustaches. The irony of making a ridiculously expensive movie about the perils of excess is nothing new—consider Titanic, that other overstuffed Leonardo DiCaprio vehicle, all those sinking jewels marking the end of the Gilded Age and the ascent of James Cameron. Titanic worked because of its charming stars and groundbreaking visuals, and because it embraced its epic cheesiness. Gatsby tries to walk the same sparkly line but, to paraphrase the book, ends up with a voice full of money and no depth to speak of.
To that end, and for no discernible reason, the movie's in 3D. The only things that pop out with any regularity are DiCaprio's large, smooth forehead and that bright, nearly blinding green light. "F. Scott Fitzgerald was a fan of new technology," Luhrmann told movie theater owners at CinemaCon of his choice to use the costly, vaguely nauseating technique.
The film's budget isn't all wasted. Costume designer Catherine Martin collaborated with Brooks Brothers and Prada on gorgeous, intricate period fashions, guaranteeing a summer crop of pink suits, flapper dresses, and angled bobs. Luhrmann wanted Daisy Buchanan to be "the most beautiful and rich woman on earth," Miuccia Prada told Women's Wear Daily. Carey Mulligan, an unappealingly nasal Daisy, is on the current cover of Vogue in Gatsby-esque Oscar de la Renta.
Luhrmann co-wrote the script and fleshed out the romance, flashing back to young Daisy and Gatsby in gauzy scenes that feel like History Channel reenactments. Did he run out of money for those? Compared with the rest of the elaborate design, the look here is cheap and corny. And as in Romeo + Juliet, a key scene between the star-crossed lovers features a sopping-wet DiCaprio. Perhaps this has some symbolic value, but maybe it's just because he looks good that way.
Did the world need another Great Gatsby? Surely the themes are as relevant as ever. And Luhrmann, with his anachronistic soundtrack and modern eye, is clearly nodding to the circumstances that led to the 2008 economic collapse. But the SparkNotes highlights—the futility of the American dream, how wealth corrupts—lack any subtlety. Key lines of the book flash onscreen, and Daisy's green light, signaling Gatsby's yearning for what he'll never have, must appear, oh, 100 times in the course of two and a half hours. We get it, Baz—we all wrote that eighth-grade essay, too. In the end, I came away with the distinct urge to purchase a Twenties-inspired Prada dress. Speaking for Fitzgerald (everyone else is), I'm pretty sure that wasn't his point.
Before it's here, it's on the Bloomberg Terminal.
LEARN MORE