Met's Big Punk Show Flipped Me the Bird, Turned Me On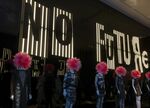 It was dark, crowded and loud, strobe-lit by Sex Pistols concert footage. I smelled leather and vinyl. I immediately got a headache.
Everything was ripped, safety pinned, studded and stapled. There were animal skins, garbage, lingerie and chains, as well as slam-dancing and graffiti. I heard Sid Vicious, the Ramones and Patti Smith.
I'd just entered the Metropolitan Museum of Art's multisensory exhibition "Punk: Chaos to Couture." At the Costume Institute, it traces the relationship between punk and fashion in New York and London from the 1970s to the present.
A visual and aural assault, the show resembled a Debbie Harry flashback with elements of an East Village nightclub, an S&M fashion show, a punk-themed Halloween party and a carnival from hell thrown in.
I felt trapped in a shabby-chic nightmare overrun by a futuristic army of nearly-nude fascist mannequins wearing engineer boots and high heels.
Wherever I was, I'd never known mannequins to be so crude, so rude -- yet so sexy.
The first one I encountered was a male making an obscene gesture with his fist at his oblivious female companion.
Like the other 100 models in the show, she wore a streaked, spiked, puff-ball wig that completely covered her head so there were no Mohawks, facial piercings or tattoos.
Feather Dusters
In this strange headgear, neither creampuff nor punk, the mannequins resembled giant feather dusters or pipe cleaners designed by a mad Dr. Seuss.
Haute couture labels here said Chanel, Dior, Dolce & Gabbana, Comme des Garcons, Givenchy and Prada -- but they were branding straitjackets, torn T-shirts, lawn bags, newspapers, bottle caps and makeshift chainmail.
The show swung wildly from provocative to anarchistic to erotic. I longed to see some of these outfits on actual bodies.
Is it just me, I wondered, or are some of these mannequins -- scantily clad in cellophane, paper and plastic bags -- actually sexually arousing? Never before had I been turned on by something resembling a feather duster. Ah, the power of art!
In the first gallery was a facsimile of CBGB's restroom, right down to the graffiti, filthy toilets and cigarette butts. We were spared the used condoms, needles and crack vials, as well as that special CBGB smell -- the acrid, stale mixture of smoke, vomit and urine. Plus no one was passed out on the tile floor.
D.I.Y.
Each of the four final galleries, dubbed "D.I.Y," was themed: "Hardware," "Bricolage," "Graffiti and Agitprop," "Destroy," but the onslaught maintained the same fever pitch. There could be some good or even great designs here, but this hostile, overproduced environment killed all subtlety.
The show's last mannequin was even more brazen than the first. Dressed in high heels and a Maison Martin Margiela evening dress consisting only of shoulder straps, a belt and a wisp of chiffon, she was flipping me the bird.
In true punk spirit, I flipped her one right back.
"Punk: Chaos to Couture" runs through Aug. 14 at the Metropolitan Museum of Art, 1000 Fifth Ave. Information: +1-212-535-7710; http://www.metmuseum.org.
(Lance Esplund is U.S. art critic for Muse, the arts and leisure section of Bloomberg News. The opinions expressed are his own.)
Muse highlights include Jason Harper on cars and Katya Kazakina on art.
Before it's here, it's on the Bloomberg Terminal.
LEARN MORE