M&A News: BMC Software, China National Petroleum, Inergy Midstream, Hochtief
Noteworthy expenditures of the week
by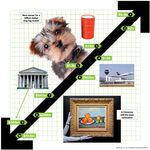 1. After struggling to handle the shift to cloud computing, Houston-based BMC Software agreed to be taken private by Bain Capital and Golden Gate Capital in a $6.9 billion deal.
2. China National Petroleum is in talks to acquire Brazilian oil startup Barra Energia Petroleo e Gas for about $2 billion, say people familiar with the discussions.
3. Natural gas storage and transportation company Inergy Midstream will pay $1.6 billion for Crestwood Midstream Partners.
4. Hochtief will get about $1.5 billion when it sells its airports division to the Public Sector Pension Investment Board of Canada. The business has stakes in airports in Athens, Budapest, Düsseldorf, Hamburg, Sydney, and Tirana.
5. London-based private equity firm BC Partners will pay $1.3 billion for Allflex Holdings, a maker of plastic and electronic animal identification tags.
6. Onex, Canada's top buyout firm, will pay $950 million to acquire Nielsen Holdings' trade show unit, which produces more than 65 shows and conferences a year.
7. Japan's Sumitomo Mitsui Financial Group is buying a stake in Indonesia's Bank Tabungan Pensiunan Nasional for $947 million.
8. Intel agreed to buy the Finnish cybersecurity company Stonesoft for $389 million. The purchase will help Intel expand the product offerings of its McAfee security software business.
9. The real estate unit of the Ontario Municipal Employees Retirement System bought the London Stock Exchange's headquarters from Mitsubishi Estate for $364 million.
10. Paul Cézanne's 1889-90 canvas Les Pommes fetched $41.6 million at a Sotheby's auction, surging past its presale estimate of $25 million to $35 million.
Before it's here, it's on the Bloomberg Terminal.
LEARN MORE