Innovator: Dor Givon Gives Computers and Tablets 3D Powers
The Camera's Next Dimension
by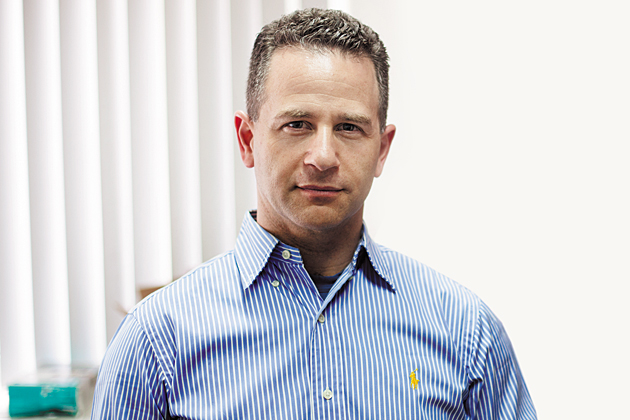 Imagine turning a smartphone into a full-body motion controller similar to the Microsoft Kinect or Nintendo's Wii remote. Dor Givon, 41, has developed software that enables a device equipped with a standard 2D camera to register movement in three dimensions. "Every camera in the world today can be transformed to 3D," says Givon, chief technology officer of Israeli startup Extreme Reality.
Givon's software, Extreme Motion, uses a running video feed from the 2D cameras built into most laptops and tablets to map a person's body and recognize his movements. Its algorithms calculate angles of limbs and joints to interpret the 2D images in 3D, adding depth to them frame by frame. On a camera-equipped laptop or TV, users can adjust the volume, move the cursor, and play games with a set of hand gestures the software recognizes from across the room. On a smartphone or tablet, the software lets developers add motion commands to mobile games.
Samsung and NEC already preload Extreme Motion on some of their PCs, and several top video game makers are incorporating it into tablet and PC games due out this year. "It really adds a lot," VTree Chief Executive Officer Charles Bergen says of supplementing his game Pro Riders Snowboard with motion control. Extreme Reality investor and Electronic Arts founder Trip Hawkins says, "Extreme Reality's technology has a huge cost advantage because it is all done in software."
Givon, who grew up on the outskirts of Tel Aviv, has been obsessed with 3D imaging since he was a long-haired teenager dreaming of making 3D versions of Casablanca and other classic movies. "I was attracted to the movie industry, because it seemed like a world where you could fulfill any fantasy," he says. His attention-deficit hyperactivity disorder derailed his plan to study physics in college. Instead, he earned his bachelor's degree in motion pictures from Tel Aviv University while working as a TV news producer; he continued in that job for about a year after he graduated in 2000.
Givon also studied computer science and, while in school, invented a camera that generated holographic images around users. Video-technology provider Micoy, based in Ames, Iowa, bought most of the rights for the camera in 2004. The following year, Givon founded Extreme Reality, which now has 45 employees. The company has raised about $14 million from angel investors and venture capitalists.
So far, Extreme Reality has made its money from licensing fees and percentages of sales from game makers and publishers, Givon says, although he wouldn't disclose its fee structure. He says his technology can track motion in near darkness, so it could also be used by security software to authenticate users or by intelligence agencies to locate suspects. "We are able to provide far greater accuracy than face recognition," Givon says. Lewis Ward, an analyst at market researcher IDC, says Givon's software is "just part of a bigger picture," but adds, "this is another step in the direction of proliferation of human-motion interfaces."
Before it's here, it's on the Bloomberg Terminal.
LEARN MORE