Indonesia Kills Seven Terrorism Suspects in Two-Day Operation
Fitri Wulandari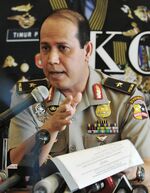 Indonesia's anti-terrorism squad killed seven suspects and arrested 13 in operations that started yesterday, after two men were held last week in connection with an alleged plot to bomb Myanmar's embassy in Jakarta.
The raids took place in Jakarta, Kebumen, about 440 kilometers (275 miles) southeast of the capital, Bandung, 147 kilometers east and Kendal, about 440 kilometers east, National Police Spokesman Boy Rafli Amar told reporters during a briefing today. Those killed "fought back" when they tried to arrest them, Amar said without elaborating.
"These were operations to arrests terrorists," Amar said at the briefing. "They hadn't committed any terrorist acts yet but they were preparing for their actions, including robbing banks to get money, making bombs, and owning firearms."
Police last week arrested two men suspected of planning to bomb the Myanmar Embassy. The following day members of the Islamic Defenders Front gathered in front of the embassy to protest against Myanmar's treatment of Rohingya Muslims. Indonesia is investigating possible links between those targeted in the raids and the embassy plot, Amar said.
Human Rights Watch in April accused Myanmar's government of ethnic cleansing in displacing more than 125,000 Rohingya Muslims.
Before it's here, it's on the Bloomberg Terminal.
LEARN MORE