HTC One, a Comeback Attempt That Could Fall Short
Its new phone is getting great reviews, but may be too late
by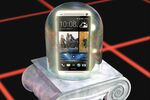 Less than two years ago, HTC was the little Taiwanese company beating Apple on its home turf. The onetime contract manufacturer was the top-selling smartphone maker in the U.S. in 2011's third quarter, taking 24 percent of the market by offering devices at different price points. Two months later, its fall began: The iPhone 4S's release muscled out HTC, and the company told investors it was cutting revenue forecasts more than 20 percent for a quarter that was already half over.
Apple and Samsung have since led the market with smartphones that consumers will queue up to get. HTC, by contrast, has long sold a line of devices of varying prices and quality to phone companies. With little star power, the company's share of global phone shipments has fallen by more than 60 percent in the last year and a half, according to market researcher IDC, from 10.3 percent of the market to less than 4.2 percent. On April 8 it reported quarterly profits of just NT$85 million ($2.9 million), a 98 percent drop from the previous year, as the delayed release of its own attempt at a breakthrough phone, the HTC One, hurt sales. The company said on May 2 that it expects revenue to fall 23 percent from the year before. "The market changed, and it was a little unexpected," Chief Executive Officer Peter Chou says of the consumer shift to branded phones such as the iPhone and Galaxy.
Now Chou is attempting a comeback with the One, which finally launched in the U.S. on April 19. The sleek, metallic, Android-based phone has received rave reviews in the media. It features a screen with higher resolution than the iPhone 5, front-facing stereo speakers, and a camera that takes high-quality pictures even in low light.
HTC has a leg up on other slumping phonemakers that've failed to deliver a product to rival Apple or Samsung, such as BlackBerry and Nokia. Despite its dismal last several quarters, HTC has $1.6 billion in cash and no long-term debt. It's never posted a loss and has slashed dividends by 95 percent to preserve cash.
Chou's success will depend on whether HTC has left behind a period of internal tumult. It took more than a year before the CEO could be persuaded to let go of the generic black phone casing he'd considered iconic and follow the Apple-Samsung model, say four current and former employees and suppliers who weren't authorized to speak publicly. At least six senior executives have left the company in the past two years, including its design and marketing chiefs. Chou says he's improved production, boosted the marketing budget, and is encouraging new ideas. "If we don't let people bring out their ideas, then how could we come up with a breakthrough product like this?" he says of the HTC One. Calvin Huang, director of investment firm Sapphire Capital Partners, says, "The fundamental problems of Chou and his management aren't changed by HTC One being a good product."
Before it's here, it's on the Bloomberg Terminal.
LEARN MORE