France's Economy Is a Mess, Yet Investors Buy Its Bonds
In their desperation for yield, bond buyers zero in on French debt
by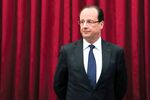 French President François Hollande called the financial-services industry his "greatest adversary" when he campaigned for the presidency last year. He's now finding that the market is his only friend. One year into a five-year term, Hollande has found his popularity already at a record low, and his economic policies have drawn the ire of his own Socialist Party and other allies. France's slump is deepening, and joblessness is at an all-time high.
Investors, though, have piled into French bonds, giving Hollande's government record-low borrowing costs. On May 2, France auctioned 10-year debt at a yield of 1.81 percent. The spread between French and German 10-year debt—a measure of how risky French bonds look when compared with their German equivalent—is 54 basis points. That's down from the 144 basis-point premium investors put on German bonds when Hollande was sworn in on May 15 last year.
"The markets are an important ally rather than an enemy at this point," says Norbert Aul, European rates strategist at RBC Capital Markets in London. "In this climate of ultralow interest rates and low volatility, French debt has an edge. While structural problems haven't disappeared, they've taken a back seat. The hunt for yield has supported French paper."
Japanese investors looking for returns higher than the current 0.58 percent yield on their country's benchmark 10-year bonds are expected to turn to European debt. (As the Bank of Japan tries to drive down rates even further, Japanese will have an added incentive to seek higher yields elsewhere.) That's buoying French securities, says John Stopford, the London-based head of fixed income at Investec Asset Management. "You can put it down to a search for yield, catalyzed by people anticipating a flood of money from Japan," he says. "Market participants can focus on one thing at a time, and right now they are focused on positive liquidity and what that means for high-yielding debt, rather than anything fundamental."
France's economy shrank 0.3 percent in the fourth quarter of 2012. It will probably shrink this year as Hollande struggles to cut the budget deficit, confidence remains lackluster, and exports lag. The absolute number of jobless claims stands at 3.2 million, a record. Propelled by firings at companies such as Goodyear Tire & Rubber and Alcatel-Lucent, the 10.6 percent unemployment rate is the highest in France since 1999. The economic gloom has rendered Hollande the most unpopular French president since the founding of the Fifth Republic. His approval rating fell six percentage points, to 25 percent, this month, according to an Ifop poll.
The president recently faced a mutiny within his Cabinet when Industry Minister Arnaud Montebourg, Consumer Minister Benoît Hamon, and Housing Minister Cécile Duflot called for less focus on austerity and more policies to spur growth. Hollande countered that he is seeking budgetary discipline and will "not deviate" from such efforts. Jean-Luc Mélenchon, the leader of the Left Front, also has ridiculed the president. In a Twitter post on April 24, Mélenchon wrote that some Hollande policies are "shameful," and he called on Socialists to "break rank."
Some investors are buying French bonds even though it makes them uncomfortable. "This is not a satisfying way of investing. These are not the rates the market would determine," says Frances Hudson, a strategist at Standard Life Investments in Edinburgh. But money is cheap and abundant, and investors have to take their yield where they find it. When that attitude changes and investors focus instead on France's fragility, Hollande may find that financiers aren't his friends after all.
Before it's here, it's on the Bloomberg Terminal.
LEARN MORE