Commerce Nominee Penny Pritzker's Dubious Prize
The president picks a fundraiser to be secretary of Commerce
By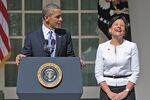 President Obama's nomination of Penny Pritzker as secretary of Commerce is certain to occasion plenty of scrutiny. A Chicago businesswoman and Hyatt Hotels heiress, she was associated with a bank that specialized in subprime lending and later collapsed; holds part of her fortune, estimated at more than $1.5 billion, in offshore trusts; and is viewed with suspicion by organized labor, which has protested wages at Hyatt and last year organized a boycott of its hotels. All of this is likely to come up at her confirmation hearings this spring. What may not get as much scrutiny is the question of what qualifies Pritzker to lead the Department of Commerce—and whether the sprawling agency has outlived its usefulness and can be led at all.
The Department of Commerce and Labor was established in 1903 to create jobs and improve Americans' standard of living. But Labor was soon spun off as its own department, and Commerce went on to become something of a catchall, the place to park government functions that other agencies shed and house new ones that had nowhere else to go. It inherited the National Weather Service from the Department of Agriculture and the Patent and Trademark Office from the Department of the Interior. Its 43,000 employees also run, incongruously, the U.S. Census Bureau, the National Oceanic and Atmospheric Administration, the National Institute of Standards and Technology, the National Marine Fisheries Service, and more than a dozen other offices.
At the same time a host of other Washington agencies have recently encroached on Commerce's turf of promoting U.S. business at home and abroad. A January study by the Congressional Research Service found that "Approximately 20 federal government agencies are involved in supporting U.S. exports directly or indirectly." Commerce isn't even the biggest spender when it comes to trade promotion—that honor goes to the Department of Agriculture. Under Hillary Clinton, the Department of State emerged during Obama's first term as the most visible cheerleader for opening foreign markets to U.S. companies.
Over the years, several presidents and candidates—Ronald Reagan, Rick Perry, Ron Paul—have proposed reforming or eliminating the department, arguing it no longer has a core mission that justifies its bureaucracy and proposing to parcel out its various functions to other corners of government. Obama, too, tried to get rid of it. Last year he asked Congress to grant him the authority to replace Commerce with a "Department of Business" that would include the Small Business Administration and five other agencies involved with trade. That idea stalled in part over disagreements about how the department would be broken up.
Little surprise then that Commerce secretary is not one of the more coveted titles in Washington. Obama let the position sit vacant for nearly a year after the last secretary, former Edison International Chief Executive John Bryson, departed for health reasons. Recent presidents have awarded the job as a thank you to prominent campaign fundraisers (Ron Brown under Bill Clinton, Donald Evans under George W. Bush, to name two), who function less as managers than as ambassadors to the business community.
Pritzker, a fundraiser and co-chair of Obama's 2012 campaign, fits this mold. Nothing in her background stands out as imbuing her with expertise in overseeing patents or population counts. But seeing how Obama has made it clear he'd be just as happy if the job didn't exist, the bar to success is about as low as it can get.
BOTTOM LINE -
The bottom line: The Department of Commerce has seen its power erode as Agriculture, State, and other agencies encroach on its turf of promoting business.
Before it's here, it's on the Bloomberg Terminal.
LEARN MORE