Charity Angels: L.A. Company's Staff Are Trained in the Art of the Ask
A charity staffing company is winning over L.A.'s gala set
Amanda Gordon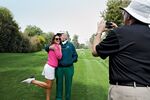 Standing outside at a charity golf tournament for Pencils for Kids Inc., an organization that provides school supplies for underprivileged children, Lindsey Palumbo, a 32-year-old brunette in a pink polo, approaches a man in his mid-40s who works in finance. He assures her he's already made a donation. "You did? What's your name?" Palumbo asks, turning toward a big white board to find a record of it. The man looks panicked. "Are you lying at a charity event?" Palumbo teases. He ponies up $300. "There are kids who can't even afford to buy a pencil with an eraser," she tells him, smiling. Then she looks around the room for her next target.
Palumbo, a former actress, is a fundraiser-for-hire. Along with helping pencil-less kids, she's done cheers on a golf course for a Jewish addiction organization—where she landed her biggest donation to date, $1,500—chatted about cancer, pleaded for the victims of Sandy Hook, and extolled the virtues of planting trees in Israel. She gets her assignments through Charity Angels, a Los Angeles company that's changing the way benefits get staffed. Instead of relying on volunteers or event planners, nonprofits hire the Charity Angels crew, 36 women trained in the art of the ask. "My husband has allowed me to be a stay-at-home mom, but I wanted to do something that was fulfilling, that would feed my soul," Palumbo says.
The Angels make $300 to work 10 hours at a golf tournament (uniform: pink polo, white skirt) and $150 for a five-hour evening gala (uniform: black cocktail dress). They're required to attend a one-hour briefing about the charity before an event. "I want my Angels to know more about the cause than the chairs, if possible," says 34-year-old founder Mellisa Nielsen. "We're cause ambassadors, not trade-show girls." Nevertheless, Nielsen looks for Angels with charm. "You need to be able to have something in common with every guest you come into contact with: You find a little pin on his golf visor that's a fish, and you start talking to him about the fish. It's not sales, it's relationship building. Remember their name, let them tell their story," she says of her company's strategy.
Charity Angels staffed 143 benefits last year, including events for Junior Achievement, the Jewish National Fund, and Cedars-Sinai Medical Center. Bookings for 2013 are up 40 percent, which Nielsen attributes to hiring her first director of business development, the supremely cheerful Palumbo. "A big part of their appeal is that they're able to pull on these guys' heartstrings," says Tom Eisenstadt, a Heart Foundation board member and senior vice president at investment banking firm Stifel Nicolaus. In the two years that Charity Angels worked the Heart Foundation's annual golf tournament at SherwoodCountry Club in Thousand Oaks, revenue from the drawings has doubled. "They're personable and charming, and they create buzz around our event that people come back for," says Eisenstadt.
Despite their success, some potential clients are wary of hiring beautiful women to mingle with guests. "It's hard to explain what we do and easy to judge before meeting us," Nielsen says. "I had a pitch for a prestigious private school in Los Angeles, and they were a little cautious. Meeting me in person put them at ease." Nielsen's personally invested about $90,000 in the business and projects she'll turn her first profit in 2013. Meanwhile, she's getting a certificate in fundraising and grant writing at UCLA. "I fell into this for my love of giving back," she says. "You have all these donors sitting in the room, you have their attention for a finite period. How do you capitalize on that?"
Eisenstadt puts it more bluntly. "This is L.A. Beautiful women are a dime a dozen," he says. "But these women look as good at the end of the party as they do at the start."