Bloomberg View: The Case for Exporting Natural Gas
A trade move that's good for the U.S. economy and the environment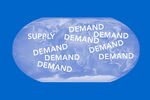 President Obama's suggestion that he may favor greater U.S. exports of liquefied natural gas is a welcome sign. More exports would spur more domestic production and help balance U.S. trade.
LNG exports could also help counter the unsettling increase in American exports of coal to Europe. In 2012 the U.S. sent about 66.4 million tons (60.2 million metric tons) of coal across the Atlantic, 23 percent more than the year before. Exporting coal works against the progress the U.S. has made in lowering its own greenhouse gas emissions by replacing coal power in the U.S. with cleaner-burning natural gas.
In Europe and Asia, where natural gas sells for $10 to $16 per million British thermal units—three to four times the U.S. price—demand is high. Imports from the U.S. could also give European countries greater power to bargain on prices with Russia's Gazprom, now a dominant supplier of natural gas. All that's missing are the U.S. facilities to liquefy gas for export.
Opposition to building terminals comes mainly from U.S. manufacturing companies that don't want to see domestic natural gas prices go up as some of the supply is sold overseas. Paul Cicio, president of the Washington-based trade group Industrial Energy Consumers of America, has called for delaying approvals for some new export terminals to avoid a domestic price shock.
In a December report for the U.S. Department of Energy, NERA Economic Consulting found—as other researchers have before—that exports would bring a net economic benefit by helping to balance U.S. trade. The increase in gross domestic product may amount to $20 billion, possibly as much as $47 billion if very large amounts of LNG—12 billion cubic feet per day—are exported, the NERA study found.
Last year the Energy Department gave a permit to one facility in Louisiana to sell LNG to countries without trade agreements with the U.S., including sales to Japan and European nations. Nineteen more applications are pending. On May 4, Obama said, "I've got to make an executive decision broadly about whether or not we export liquefied natural gas at all." The decision has yet to be made, but the right one is clear. The plants should be approved without delay.
Before it's here, it's on the Bloomberg Terminal.
LEARN MORE