Billionaire George Kaiser's Friendly Foundation
George Kaiser's charity puts a lot of money where he does
by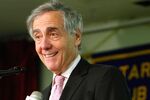 When Oklahoma billionaire George Kaiser opened the Northeast Gateway liquefied natural gas terminal in 2008, the depot's first delivery was shipped on the Excellence, a 909-foot supertanker that holds 138,000 cubic meters of LNG. The Excellence is owned by the George Kaiser Family Foundation, a charitable organization that bought it for $110 million in 2003. The charity later leased the vessel to Excelerate Energy, a for-profit gas delivery company George Kaiser owns with publicly traded German electric utility RWE, according to RWE's 2012 annual report. "It is an excellent investment," says Frederic Dorwart, a trustee of the foundation and longtime attorney for Kaiser's banking and energy companies. The foundation will have collected enough lease payments to cover its purchase price this year, he says, "and we'll still own the vessel."
At least $1.25 billion of the charity's $3.4 billion in assets is invested in ways that benefit Kaiser's for-profit endeavors, according to a Bloomberg analysis of the George Kaiser Family Foundation's 2011 tax return. The charity invests alongside the billionaire's stakes in some companies. In other instances, it directs funds in ways that support his for-profit businesses, such as the Excellence.
"There is a smell test," says Richard Sills, senior partner for tax-exempt organizations with law firm Holland & Knight in Washington. "The IRS really has to be satisfied that the charity is really engaged in charitable activities and these other businesses are really separate from the day-to-day activities of the charity." Kaiser declined to comment.
There are two broad categories of philanthropic vehicles in the U.S.: private foundations and public charities. In private foundations, donors are allowed to manage the foundation's assets and decide who gets its money. These entities must give away 5 percent of their assets annually, according to Internal Revenue Service regulations. Tax deductions for contributions to a private foundation are capped at 30 percent of the donor's income.
The George Kaiser Family Foundation is organized as a public charity, in which the donor gives up all rights to control the charity's investments and gifts. In exchange for that loss of control, the donor can deduct contributions equal to as much as half of his annual income. Kaiser, who has a net worth of $13.5 billion, according to the Bloomberg Billionaires Index, donated $3.12 billion to the charity from 2002 to 2011.
While George Kaiser does not control the foundation's investments, he and the charity have put a lot of money in the same places. The foundation holds more than $500 million in Memjet IP Holdings, a San Diego-based printing technology company in which Kaiser has a stake. "The interests of Mr. Kaiser in Memjet are fully subordinated to the foundation," Dorwart says.
The foundation invested $577 million through Kaiser's Argonaut Ventures, a venture capital company, according to its 2011 tax return. It has $300 million in stock of bank holding company BOK Financial, of which Kaiser is the majority owner. Other ties to BOK include the foundation's outstanding loan of more than $2.3 million from a BOK subsidiary. The only bonds in the charity's portfolio, according to its latest tax return, are $10.7 million issued by the Tulsa County Industrial Authority. The industrial authority invested at least $70 million of its $85 million in cash with BOK Financial, according to the authority's financial statement ending June 30, 2012. Dorwart says the foundation is free to sell its shares in BOK at any time.
There is no simple rule to determine when a charity's investments are too beneficial to its donors. "There are very wealthy people who play by the rules and others who don't, who use public charities to further their business interests," says Pablo Eisenberg, senior fellow at the Georgetown University Public Policy Institute. "One of the problems is the laws are so vague as to be absent of any serious regulation by the IRS or any state's attorney general. Almost anything goes."
From 2002 through 2011, the Kaiser Foundation gave away a total of $302 million. It isn't obligated to donate a penny, according to IRS rules. "Congress has established a public policy that there be no minimum distribution for public charities of our kind," Dorwart says. "Someone who is articulating that criticism is criticizing the law."
Kenneth Levit, executive director of Kaiser's charity, which is based in Oklahoma, says the organization intends to move closer to disbursing 5 percent of its assets annually. The foundation's interests are early-childhood centers serving more than 2,000 infants and toddlers in the state, and funding a medical school at the University of Oklahoma that offers free tuition to students who vow to practice in areas underserved by doctors. "Our personal view is that we are spending the money very, very wisely," Dorwart says. "The money is in the public domain for perpetuity. It never reverts back to the donor."
Before it's here, it's on the Bloomberg Terminal.
LEARN MORE