At Walmart and Other Retailers, Price-Matching Has Its Perils
Matching competitors is often more trouble than it's worth
by and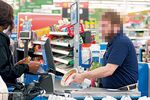 This Easter, Wal-Mart Stores debuted a TV commercial promoting its Ad Match Guarantee. An excited clerk touts the policy's benefits to a shopper named Janette from Lithonia, Ga. "That price?" he says, pointing to an advertising circular Janette's brought in. "Walmart will match it right at the register. And you don't even need your ad!"
When Walmart rolled out its "simplified" Ad Match Guarantee in 2011, it promised that store workers would get "extensive" training "to ensure the price-match policy is executed consistently across all stores." That hasn't happened, says Richard Hampton, a customer service manager who's on medical leave from a Walmart Supercenter in Rowlett, Tex. "The policy may well be as intended in the ads, but the reality is quite different and apparently arbitrary," says Hampton, who adds that he routinely asked supervisors for a better understanding of the price-match policy so he could explain it to the cashiers he managed. "I could never get a consistent answer. Today it's this, tomorrow it's that." Deisha Barnett, a Walmart spokeswoman, says, "It's unfortunate that there's a couple stores that aren't executing our match the right way," but she says it's not a national problem.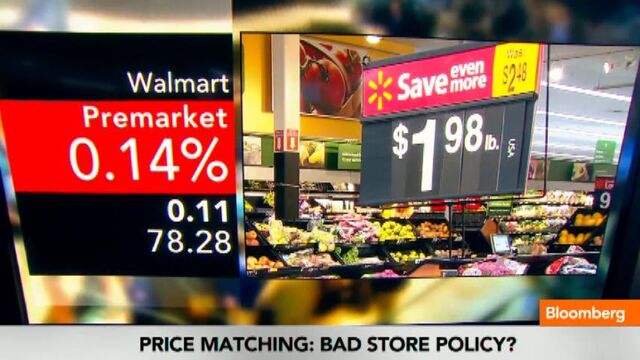 Last month, Gary Bentley, 56, presented an ad for Heinz ketchup to a cashier at a Walmart in Leavenworth, Kan. Bentley says the ad was covered by the policy's fine print—it was from a local store and showed a lower price for the identical item—but was told it wasn't valid. The same thing happened when he brought in a circular advertising a cheaper price for Gatorade on a separate trip. "They just say, 'We won't do it,' " says Bentley, a loyal Walmart customer for years. He doesn't shop there much anymore.
Although price-matching promotions have been around for years, they've become a key marketing tool to attract shoppers squeezed by stagnant wages and 7 percent-plus unemployment. It can be a risky strategy. Not only are the programs hard to manage, they're often left to the discretion of an individual cashier. Price-matching can backfire if shoppers don't get the deal they expect and leave confused or angry. In February, Toys "R" Us agreed to review its ads after a consumer complained to an industry watchdog that workers didn't understand how its policy worked. Toys "R" Us declined to comment.
Price-matching "is a necessary evil today," says Allen Adamson, a managing director at Landor Associates, a San Francisco-based brand consulting firm. Once one retailer offers to do it, rivals feel compelled to follow, though often with their own tailored program. Best Buy lets customers match prices if the rival store is within a 25-mile radius, while Walmart lets store managers decide how far and wide price-matching applies. Target doesn't specifically define what it considers a "local" market and funnels requests through its guest services desks.
The decision to price-match often depends on the individual store manager. "Some might not want customer complaints," so they match whatever price the shopper asks for, says John Gourville, a professor at Harvard Business School. "Others won't. They'll think more about their profit margin." To protect themselves while continuing to market aggressive price-matching strategies, a handful of major retailers carry exclusive versions of certain products that may have similar specifications to ones carried in other stores but different model or serial numbers. Best Buy has a "premium collection" of about 30 laptops from brands such as Dell and Samsung Electronics that it carries exclusively and therefore can't be price-matched. Rafi Mohammed, a pricing consultant in Cambridge, Mass., calls this "versioning" and says it's a common tactic big retailers use to avoid price comparison. "It's part of what's frustrating about the whole price-match policy," he says.
Walmart is already struggling against flat sales growth and dealing with a costly investigation into allegations that employees in Mexico bribed officials in the early 2000s. It's also in the midst of naming a successor to Chief Executive Officer Mike Duke. Whoever gets the job will inherit an Ad Match Guarantee program that's been the source of more than a few headaches.
Over the past month, Walmart regional managers noticed that about 10 stores in the Dallas area were approving more than the expected number of ad-match transactions for meat and produce. They discovered cashiers were matching what Walmart considers to be different items, says spokeswoman Barnett. The stores matched competitors' prices on seeded oranges, for example, when Walmart's oranges were seedless. Or they matched a lower price on ground beef that wasn't as lean as the beef sold at Walmart. When workers were told not to price-match those items, complaints to the corporate hot line spiked, although Walmart received "less than 500" calls, Barnett says.
Particularly troublesome for some Walmart employees is the company's vague idea of what counts as a "local" competitor. Hampton, the Walmart customer service manager, found a definition impossible to nail down. "Some managers say competing stores must be within certain distances, such as within five miles, but I could never get a firm answer on that tidbit."
Before it's here, it's on the Bloomberg Terminal.
LEARN MORE