pursuits
Why Levi Strauss Is Putting Its Name on the 49ers Stadium
Come for the football, stay for the 501's.
By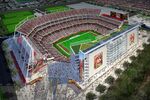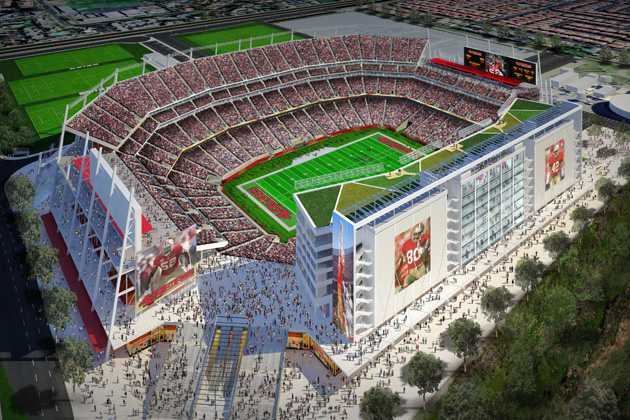 The San Francisco Chronicle broke the news today that Levi Strauss will put its name on the San Francisco 49ers new stadium in Santa Clara. The deal, which the Mercury News reports is for $220 million over two decades, is a departure from the norm in the Bay Area, where stadiums tend to take the names of tech and telephone companies. (See: Oracle Arena, O.co Coliseum, AT&T Park, and, once upon a time, 3Com Park.)
"It was a bit of surprise," says Jim Andrews, vice president for content strategy at sponsorship consultant IEG. Andrews and IEG worked with the 49ers to evaluate potential sponsorship packages and corporate partners. When the IEG team was looking over the list of potential naming-rights partners, Andrews says, Levi's was not at the top. "We haven't seen a lot of apparel companies do this before," he says.
For many of the tech giants in the 49ers' backyard, naming-rights deals have likely become an extravagance: "Quite frankly, I think companies across all categories have gotten smarter about the naming rights," says Andrews. A company such as Oracle that does most of its business with other businesses can get as much value for less by becoming a venue's official supplier. They still get to showcase their technology, associate themselves with the team, and entertain clients, and they don't have to shell out tens of millions. "Some of those companies, looking back, may have said, we really didn't need to take the naming-rights position," says Andrews, "We could have accomplished a lot of our objectives by being one of the supporting sponsors."
SAP, NRG Energy, Brocade, and Violin Memory already have such deals with the 49ers.
The question that remains is what Levi's gets from the deal. "Levi's is one damn well-recognized brand," says Frank Vuono, co-founder of 16W Marketing, who brokered the deal that made Candlestick into 3Com Park in 1995. High-profile brands such as Nike, McDonald's, Apple, and Coca-Cola, Vuono notes, don't tend to bother with naming rights. But Levi's, founded in San Francisco in 1853, fits nicely with the 49ers.
And the company, says Andrews, could use a little boost as it tries to stay relevant in the fickle fashion industry. "They are a heritage brand that everybody is familiar with, but they don't have the cool, cutting-edge image they probably wish they had." The jeans maker, says Andrews, plans to outfit the stadium's staff and will likely strike deals with some 49ers players: "It will be a little bit of a nontraditional showroom for them."
(
Corrects length of sponsorship deal.
)
Before it's here, it's on the Bloomberg Terminal.
LEARN MORE