The Best-Kept Secret in the Chicago Art World Is a B-School
Francesca Di Meglio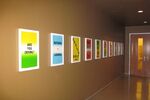 A well-known secret among Chicago's art lovers is that one of the best collections of contemporary art in the city is not at a museum. It's at the University of Chicago's Booth School of Business. The school boasts about 500 works that represent about 85 artists in its building, the Charles M. Harper Center.
Sprinkled throughout the six floors of the Harper Center, the art is not meant to be an investment, which is what most would expect from a business school, or even decoration.
"We want to use art to reinforce the educational mission of the school. We're trying to get people to think," says Canice Prendergast, a Booth economics professor, who considers art collection his hobby and became one of the five people who choose the works to purchase and bring into the building.
Such extensive art collections at business schools are relatively rare. Harvard Business School has about 200 works in the Schwartz collection, started in 1998 by MBA alum and Onex founder Gerald Schwartz. The University of Michigan's Ross School of Business has its own collection. The Balser collection at Emory's Goizueta Business School includes works by Chagall, Dali, Lichtenstein, Picasso, and Warhol. Similar collections exist at Indiana's Kelley School of Business and American's Kogod School of Business.
Since 2005, shortly after the Booth School moved into its new building, Prendergast says, a team of advisers has helped the school decide which artworks to acquire for the collection. The team has been fortunate to choose works by artists shortly before they hit it big, says Prendergast.
For example, Booth bought The Russian Ending, a series of etchings featuring explosions, shipwrecks, and funerals by Tacita Dean. (The title refers to the tradition among Danish filmmakers of preparing different endings for their movies—happy ones for Americans and catastrophic ones for Russians.) Dean went on to win the Hugo Boss Prize, one of the most important in contemporary art, shortly after the school picked up this work. Now the school is lending the work to a museum show, which is something it does from time to time.
Booth also owns art by the Vietnamese artist Danh Vo, the 2012 Hugo Boss Prize winner. The Vo work features gold leaf on a cardboard box to create a depiction of the American flag. The most valuable work in the Booth collection, on which the school spent $25,000, probably is worth about $750,000 now, says Prendergast, who declined to reveal the artist and piece for fear of its safety.
In fact, Prendergast says the school will probably only ever sell a work if it becomes so valuable that it is no longer safe hanging in a public building without the more sophisticated safeguards for art one would find in a museum. The school plans to continue to invest in art. The collection gets an annual allocation of funds from the dean's office that allows the school to purchase about eight to 10 new works, says Prendergast.
Some in the local Chicago media have wondered whether the business school students know what's hanging in their school.
"People are aware of the art," says Prendergast. "They're not super aware of what it means."
To learn more, many students sign up for the tours that Prendergast offers about three times per year. He can accommodate only 30 to 40 people per tour, which means many of those who try to sign up are shut out, he says. As a result, he has made recordings explaining the pieces that people can hear on their iPhones while conducting self-guided tours.
"Contemporary art is difficult to get into," he says. "We try to make it accessible."
Ultimately, Booth's support for art is simply another example of its constant drive for intellectual exploration, says Prendergast.
"Art," he adds, "is our latest frontier."
Join the discussion on the Bloomberg Businessweek Business School Forum, visit us on Facebook, and follow @BWbschools on Twitter.
Before it's here, it's on the Bloomberg Terminal.
LEARN MORE