Shell Earnings Beat Analyst Estimates as Voser to Stand Down
Eduard Gismatullin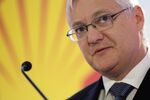 Royal Dutch Shell Plc, Europe's biggest oil company, reported a surprise increase in first-quarter profit and Chief Executive Officer Peter Voser said he will stand down next year.
Profit excluding one-time items and inventory changes rose 3 percent to $7.5 billion from a year ago, The Hague-based Shell said today in a statement. That beat the $6.4 billion average estimate of 12 analysts surveyed by Bloomberg.
Earnings from refining and marketing surged 65 percent to $1.8 billion on higher processing margins and petroleum trading in the quarter. Shell also benefited from the delayed ramp-up of its $19 billion Pearl GTL venture in Qatar to full capacity as well as the Eagle Ford fields in the U.S. and Pluto liquefied natural gas project in Australia.
"These results were underpinned by Shell's growth projects, an improvement in downstream profitability, and were delivered despite a difficult security environment in Nigeria," Voser said in a statement, referring to production disruptions caused by oil thefts in the African country.
BG Group Plc, the U.K.'s third-largest gas producer, today reported a 3 percent decline in profit. Statoil ASA, Norway's biggest energy company, said earnings fell 29 percent. Both said oil and gas production slipped from a year earlier. That followed lower results from BP Plc and Total SA.
Share Performance
Shell's Class A shares rose 0.5 percent to 2,203 pence at the close in London. The stock retreated 11 percent last year.
Shell will begin the search process for a new CEO after Voser said he will retire in the first half of 2014.
"He's had a great career as an executive, but he's looking for a lifestyle change, more time, family," Chief Financial Officer Simon Henry told analysts today on a conference call. He declined to comment whether he will take the top job. "So this is a private and a personal decision."
Voser, who was appointed CEO in July 2009, has been cutting costs and expanding projects to add production. Shell will invest about $100 billion through 2014 after selling at least $21 billion in assets, including $600 million in the latest quarter.
First-quarter production was little changed from a year earlier at 3.552 million barrels of oil equivalent a day. Shell plans to raise volumes to about 4 million barrels a day as early as 2017.
Force Majeure
Shell last month shut the Nembe Creek pipeline and declared force majeure on Bonny Light oil exports for the second time this year because of sabotage and theft in Nigeria. Its gas supplies to Nigeria LNG Ltd. were also disrupted in the quarter. Production was reduced by about 60,000 barrels of oil equivalent a day in the period, Henry said.
The company also made an investment decision to develop the second phase of the deepwater Erha North project in the African nation.
Shell brought onstream the Amal steam enhanced oil recovery project in Oman with its partners and also completed the partial expansion of the Athabasca oil sands venture in Canada in the quarter.
Shell suspended drilling off Alaska in February after disruptions and damage to two drilling vessels last year. Shell had spent about $5 billion over seven years preparing to explore the Beaufort and Chukchi seas.
Before it's here, it's on the Bloomberg Terminal.
LEARN MORE