The SEC Settles Anew With a Hedge Fund
By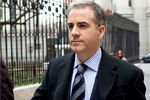 The U.S. Securities and Exchange Commission extracted a fresh settlement from a hedge fund on Monday, when Level Global Investors agreed to pay $21.5 million to settle charges that one of its co-founders engaged in insider trading. Fund co-founder Anthony Chiasson was charged by the SEC in January 2012 with illegal trading in Dell and Nvidia.
Former Level Global analyst Spyridon Adondakis ultimately pled guilty and cooperated with the government in the investigation, becoming a star witness in the parallel criminal trial, which ended in December with a guilty verdict against Chiasson and a co-defendant, former Diamondback Capital Management portfolio manager Todd Newman. The SEC's case against Chiasson is still unfolding.
The settlement between Level Global and the SEC contains the standard no-admit, no-deny-guilt provision and must still be approved by a judge. In its press announcement of the settlement, the SEC said its investigation is "continuing."
So can Level Global co-founder David Ganek finally move on with his life? Chiasson and Ganek, both alumni of SAC Capital, started the fund in 2003, ultimately building it to $4 billion. Ganek became known as a high profile art collector and man-about-town who was frequently photographed at parties and benefits with his wife, novelist Danielle Ganek. The FBI raided Level Global's offices in November 2010 as part of its investigation into insider trading, and Ganek decided to close the fund shortly after.
"Unfortunately the ongoing government investigation presents significant challenges to maintaining our collective focus," Ganek wrote in a letter to his investors.
Ganek was named an unindicted co-conspirator during the Chiasson and Newman trial but was never charged. His spokesman Davidson Goldin says: "The facts that David was not charged in this case, and that the government's star witness, as well as the lead FBI agent, testified that he wasn't involved, speak for themselves."
Before it's here, it's on the Bloomberg Terminal.
LEARN MORE