'Testament' Closing Shakes Up Tony Race; Midler Snubbed
Philip Boroff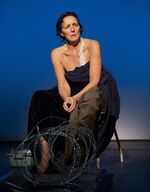 Hours after "The Testament of Mary" received a Tony nomination for Best Play of the 2012-13 season, the producers announced that the one-woman show will close this weekend following just 16 performances.
The move was unusual and could affect the outcome of the race for the coveted award. Most struggling shows wait to see whether a nomination will spur box-office interest.
The other Best Play nominees are the Tom Hanks-starring "Lucky Guy" by Nora Ephron, Christopher Durang's "Vanya and Sonia and Masha and Spike" and Richard Greenberg's "The Assembled Parties."
The nominees for Best Musical are "Bring It On" and "A Christmas Story," both of which are long closed, and the front-runners, "Matilda" and "Kinky Boots."
While the Tony nominations announcement always comes with its share of surprises, the closing of "Testament" so quickly was stunning. Colm Toibin's one-woman show stars Fiona Shaw as the mother of Jesus and recounts the events leading to the Crucifixion. The show generated many rave reviews but failed to catch fire at the box office.
No Comment
Neither of the lead producers, Scott Rudin and Stuart Thompson, responded to requests for interviews.
Any of the 750 Tony voters who don't see it before it closes on Sunday are bound to abstain from voting in the best play race, according to Tony rules. Voters sign the envelope containing their ballot promising that they have cast votes only in categories in which they have seen every nominee.
The largest voting block comprises members of the Broadway League, the trade group of theater owners and producers that co-produces the awards with the nonprofit American Theatre Wing. Many of the League's members live outside New York.
"Every Tony voter is on his or her honor not to vote in a category in which they haven't seen all the candidates," said Ted Chapin, vice chairman of the Wing.
A spokesman for "Testament," Philip Rinaldi, could not immediately say how many Tony voters had seen the show.
Overall, a season filled with Hollywood stars spread the love only so far, with nominations for Hanks, David Hyde Pierce, Cicely Tyson and Keith Carradine.
Midler Snubbed
Snubbed were Bette Midler, Alec Baldwin, Al Pacino, Sigourney Weaver, Scarlett Johansson and Jessica Chastain.
"Kinky Boots" an adaptation of the 2005 movie with new songs by Cyndi Lauper, was nominated for 13 Tonys, the most of any show.
It was recognized for Lauper's score, Harvey Fierstein's book, Jerry Mitchell's direction and choreography and for the performers Annaleigh Ashford, Billy Porter and Stark Sands. It's an upbeat tale about the men and women (and men dressed as women) who save a struggling English shoe factory by specializing in footwear for drag queens.
"Matilda," a bittersweet musical about a precocious girl with special powers of imagination, won 12 nominations. It would have matched the 13 for "Boots," but the four young actresses alternating in the title role will receive a special Tony and were deemed ineligible for competition.
Circus Theme
A circus-themed staging of 1972's "Pippin" -- with songs by Stephen Schwartz -- followed with 10 nominations.
"Boots" and "Matilda" compete for the most bankable Tony, new musical, against the seasonal "A Christmas Story: The Musical" and "Bring it On: The Musical." "Bring it On" closed in December and was based on the 2000 film. "Christmas Story" was based on a 1983 film.
"Motown," Berry Gordy's lavish hagiography featuring the music he produced with the Supremes, Four Tops, Jackson Five and others, was not nominated for best musical, but was recognized in other categories.
Also snubbed were John Logan's "I'll Eat You Last" and its star, Bette Midler, playing agent Sue Mengers. Both "Motown" and the Midler show are playing to full houses.
Nominees were chosen by a committee of two dozen who work in theater and were announced this morning at the New York Public Library for the Performing Arts at Lincoln Center.
Aside from Hanks, actors recognized for plays were Nathan Lane ("The Nance"), Tracy Letts ("Who's Afraid of Virginia Woolf"), Hyde Pierce ("Vanya and Sonia") and Tom Sturridge ("Orphans.")
Cicely Tyson
The actresses in plays were Laurie Metcalf ("The Other Place"), Amy Morton ("Virginia Woolf"), Kristine Nielsen ("Vanya and Sonia"), Holland Taylor ("Ann") and Cicely Tyson "The Trip to Bountiful.")
Snubbed stars included Baldwin, playing a paternal mobster in "Orphans"; Chastain in "The Heiress"; Johansson in "Cat on a Hot Tin Roof"; Pacino in "Glengarry Glen Ross"; and Alan Cumming playing virtually everyone in "Macbeth."
"Matilda" was created and co-produced by the Royal Shakespeare Co. The most acclaimed musical of the season, it received nominations for Tim Minchin's score, Matthew Warchus's direction and actor Bertie Carvel, playing the vicious headmistress Miss Trunchbull.
"Pippin" the last show of the season to officially open, was nominated for best musical revival with "The Mystery of Edwin Drood," "Annie" and "Rodgers & Hammerstein's Cinderella."
Performers Stephanie J. Block and Will Chase of "Drood" were recognized, as were the leads of "Cinderella," Santino Fontana and Laura Osnes.
The short-lived "Hands on a Hardbody," was nominated for Trey Anastasio and Amanda Green's score. Green also was co-lyricist for "Bring It On."
The musical flops of the fall received nominations for lead actors Rob McClure ("Chaplin") and Carolee Carmello ("Scandalous").
Muse highlights include Peter Rainer on movies and David Shribman on books.
Before it's here, it's on the Bloomberg Terminal.
LEARN MORE