A Fake AP Tweet Sinks the Dow for an Instant
Jared Keller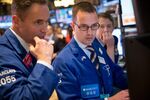 The nearly two million people who follow the Twitter feed of the Associated Press were treated to a nasty surprise this afternoon: a tweet (since deleted) claiming there had been an explosion at the White House that injured President Obama:

Everything about this message seemed suspicious: It wasn't written in the AP's style and as other journalists noted, the message appeared on Twitter before it was posted to the official AP wire. The AP quickly confirmed that its account was hacked:
Any news of an attack on the White House is a sign of imminent apocalypse, and the market reacted accordingly: From 1:08 p.m. to 1:10 p.m., the Dow Jones Industrial average plunged more than 100 points, from 14697.15 to 14548.58. Just as quickly though, it rebounded. By 1:13 p.m., it was back above 14690. You can see the sharp dip and climb in this screenshot from a Bloomberg terminal below:

The AP has since announced that it is suspending all of its Twitter accounts. A group that calls itself the Syrian Electronic Army has apparently claimed credit for the hack. They're a pro-regime activist group connected to several cyberattacks over the past two years, as I discussed in a piece I co-wrote for the Atlantic in 2011.
In June 2012, fake tweets about the death of Syrian President Bashar al-Assad sent from an account claimed to be that of Syria's interior minister caused the price of West Texas Intermediate crude to climb by more than $1 to just shy of $92.

Update, 4:11 p.m. ET: >Bloomberg News reports that the AP's false tweet wiped $136 billion from the S&P 500 index in about two minutes. The U.S. Secret Service is aware of the hacking incident, according to a spokesman.
Before it's here, it's on the Bloomberg Terminal.
LEARN MORE