The Best Undergraduate B-Schools for Accounting
Geoff Gloeckler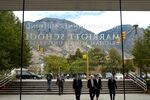 As part of the 2013 Best Undergraduate B-Schools ranking, Bloomberg Businessweek asked undergraduate business students from the Class of 2013 to tell us, via an online survey, about the full range of their business school experience, from getting in to getting a job. One section of the survey singled out specific aspects of the business program and asked the students to grade them on a scale of A to F. Over the next few weeks, we will publish the top 10 B-schools in each of 10 specialty areas, from accounting to sustainability, culminating with publication of the entire undergraduate specialty ranking, including each of the 124 ranked schools.
Today we look at accounting, the area of focus for nearly a quarter of all undergraduate business students. The ranking is based on student responses to the question asking them to rank their program's accounting offerings. Points are awarded for each response—one point for an "A" grade through five points for a grade of "F"—and averaged for each school. The ranking is based on the average; schools with the lowest average are ranked the highest. If a student did not have exposure to the area in question, they could answer NA, and their response was not included. The average accounting score for all 124 undergraduate business schools in the ranking was 1.37. At the top of the list is Brigham Young University's Marriott School of Management, with a score of 1.067.
On entry into the program at the start of their junior years, accounting majors at Marriott undertake the intense, unique "Junior Accounting Core," an integrated set of six classes that serve as a foundation for their careers or graduate study in the field of accounting. As part of the core, students are divided into teams of five and take each of the required accounting courses together, working on projects and other assignments as a group to develop skills in such areas as critical thinking, teamwork, and written and oral communications, according to David Cottrell, associate director of the accounting school at Marriott.
The school also offers the largest student-run volunteer income tax assistance lab in the country, with 150 students preparing more than 2,000 tax returns each spring, yielding nearly $3 million in refunds.
Notre Dame's Mendoza College of Business and UC Berkeley's Haas School of Business follow BYU in the accounting ranks.
Top Undergrad Business Schools for Accounting
| | | |
| --- | --- | --- |
| 1. | Brigham Young (Marriott) | 1.067 |
| 2. | Notre Dame (Mendoza) | 1.076 |
| 3. | UC Berkeley (Haas) | 1.081 |
| 4. | Cornell (Dyson) | 1.089 |
| 5. | Illinois – Urbana-Champaign | 1.116 |
| 6. | Tulsa (Collins) | 1.118 |
| 7. | Richmond (Robins) | 1.119 |
| 8. | Southern Methodist (Cox) | 1.12 |
| 9. | Wake Forest | 1.138 |
| 10. | Tulane (Freeman) | 1.141 |
Join the discussion on the Bloomberg Businessweek Business School Forum, visit us on Facebook, and follow @BWbschools on Twitter.
Before it's here, it's on the Bloomberg Terminal.
LEARN MORE